Crypto analysts make their predictions based on the market volume of a project. A credible crypto project that is very valuable to users will draw the attention of investors. If the crypto can multiply the investors' earnings, it is appreciated and valued by the investors.
Following the current market situation, DeFi tokens have taken positions as top altcoins in the industry. DigiToads (TOADS), Stellar (XLM), and Dogecoin (DOGE) are valuable cryptos that have made waves in the crypto industry. Crypto analysts seem keen on DigiToads and have predicted it will hit a very high price. But can DigiToads become more valuable than the others and be regarded as the best crypto to invest in?
Let's look at DigiToads' price prediction and see if it can become a more valuable altcoin compared to Stellar and Dogecoin.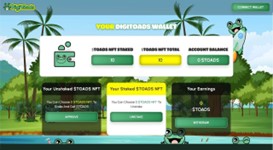 DigiToads' (TOADS) unique features make it more valuable to investors.
DigiToads (TOADS) has been set apart from other crypto projects as a valuable and credible crypto. It offers users various features, from P2E gaming to NFT and NFT staking. This fattens investors' portfolios since they have different earning choices to increase their investment returns.
One feature that sets DigiToads apart from other cryptocurrencies is its genuine love and care for society. Unlike most cryptos that only intend to make a profit and share among themselves, TOADS thinks of ways to give and make the community a better place. DigiToads (TOADS) gives a percentage of its profit to charity organizations involved in afforestation to accomplish this.
DigiToads' diversity and societal concern have put it at the top of other altcoins and made it the best crypto to invest in. Seeing the project's value, its market volume keeps increasing daily, causing the price prediction to grow further.
Stellar (XLM) provides a united platform for buying and selling cryptos.
Stellar (XLM) is a DeFi payment network that leverages blockchain technology to build a robust payment system. XLM provides a medium where users can make quick transactions, unlike traditional financial institutes, which take time. In addition, it offers individuals cheaper payment plans.
Stellar was created to improve the world's financial system by providing a single, united platform where every investor can work. With the altcoin, no particular currency is considered superior to the others; instead, XLM is used as the native cryptocurrency. Stellar (XLM) offers users a platform that accommodates the buying and selling of other cryptocurrencies.
Dogecoin (DOGE) was initially created as a caricature crypto project.
Most crypto projects were created because their creators were envious of Bitcoin (BTC) and wanted to be like it, except for Dogecoin (DOGE). DOGE is regarded as the first meme coin and was launched as a caricature image of Bitcoin, and it used a Japanese dog as its logo to drive the point home further.
However, investors saw Dogecoin as a credible crypto that could generate profit for them. One of the core features and strengths of DOGE that make it unique is its open and fun-loving community. Community members lived comfortably without pressure to be like other DeFi tokens. Dogecoin's (DOGE) strength is also the project's weakness since it needs more professional procedures than others do.
DeFi tokens like DigiToads, Stellar, and Dogecoin have dominated the crypto market. They are credible cryptos that have increased the market value of crypto assets. However, the apparent potential of DigiToads has made it more valuable than the others. TOADS' diversified earning plan makes it a valuable crypto and the best crypto to invest in.
For More Information on DigiToads visit the website Here, join the presale or join the community for regular updates.
Disclaimer: This is a paid release. The statements, views and opinions expressed in this column are solely those of the content provider and do not necessarily represent those of NewsBTC. NewsBTC does not guarantee the accuracy or timeliness of information available in such content. Do your research and invest at your own risk.