There are lots of good meme tokens on the market – the past few months have proven that. However, there's always room for innovation, and Doge Rush is a meme coin that is doing just that. The project has taken the crypto market by storm and there is a lot to look forward to.
Here we explain what Doge Rush is and why it can best other meme coins. From P2E games to NFTs, there is a lot to talk about.
Doge Rush is the New Meme Coin Town
Doge Rush is an innovative cryptocurrency initiative that merges the widespread appeal of meme coins with practical functionality, delivering users an exceptional and captivating gaming encounter. The platform presents a selection of casual games under the name DogeHub, with a built-in on-chain mechanism for exchanging collectibles (NFTs) among all the games.
DogeHub represents an advanced gaming platform that harnesses the potential of meme coins to deliver an unmatched gaming encounter. Within the platform, you'll discover a diverse collection of casual games that have been revamped, accompanied by an on-chain mechanism that facilitates the sharing of collectibles (NFTs) across all games. Whether you possess extensive gaming experience or are a novice, DogeHub guarantees a distinctive and exhilarating gaming journey that cannot be replicated elsewhere.
Engage in the free-to-play mode to both enjoy the game and earn cryptocurrencies, or maximize your earnings by acquiring NFTs that vary in rarity and potential return on investment. The allure of Doge Rush goes beyond mere amusement— the stakes are elevated because your performance can translate into actual earnings. Imagine being remunerated for the time you invest in playing video games. With Doge Rush, gamers are granted the opportunity to earn real money. Play-to-Earn games like Doge Rush reward your dedication and commitment to the game by offering you the chance to earn $DR.
DogeWin Asks You to Escape from Elon Musk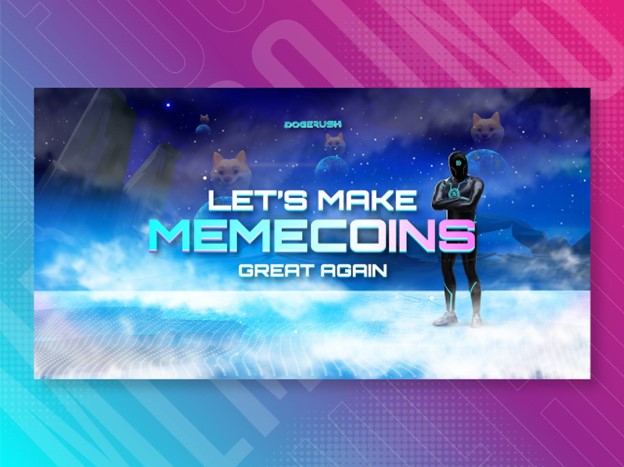 DogeWin grants users the ability to engage in hourly contests with the potential to win valuable NFTs and ETH. Within it, you will find an assortment of noteworthy collections including MAYC, MoonBirds, and Pudgy Penguins, offering users the chance to acquire rare and valuable digital assets. Through this interactive experience, users can actively participate in Web3 and cryptocurrency while embracing a fun and thrilling atmosphere. By utilizing the $DR token, the platform presents a user-friendly interface that simplifies the process of joining ETH competitions.
In Doge Rush, you assume the role of Doge and face the challenging mission of escaping Elon Musk as you dash through the abandoned subways of a dystopian underworld. This game has tremendous potential for memes. Take control of Doge by swiping in various directions—up, down, left, and right—to gather coins while skillfully evading Elon's pursuit. As you advance in the game, the speed intensifies, presenting more obstacles in your path. The greater the game's difficulty, the higher your chances of earning points and, consequently, more cryptocurrency. Doge Rush introduces an array of distinctive characters with upgradeable NFT skins, each with varying prices and estimated return on investment for players. Enhance your character by reaching higher levels, merging it with another character to enhance your earnings from gameplay, or even sell it to fellow players through the Doge Rush marketplace. The potential of this game is remarkable—join the $DR community before it becomes viral.
Presale Underway, Strong Roadmap Also Revealed
📣 Attention #DogeRushArmy! 📣

Stage 1 of our #Presale is now live! 🔥

Don't miss out on the opportunity to get your $DR tokens before the price goes up!💰

Get your hands on some $DR now!💰💸💎

Buy Now: https://t.co/C2irnwZBrH #DogeRush #DogeRushArmy pic.twitter.com/mCZ0sQBQ4J

— Doge Rush (@DogeRushCoin) May 21, 2023
Investors should check out the Doge Rush presale, which is currently in the first stage. The DR token is priced at $0.055. In the next stage, it will increase to $0.0057. The token will be listed for $0.0099.
Doge Rush has developed a roadmap that provides a comprehensive overview of the project's strategy.
In Phase 1, the priority is security by conducting a thorough audit to ensure a robust and reliable platform. Simultaneously, it will develop the game concept, establish a presence on various social media platforms, and launch the pre-sale website, which it has already done. Phase 2 witnessed significant advancements as it will see a launch on Uniswap, achieved listings on CoinMarketCap (CMC) and CoinGecko (CG), and secured listings on top-tier centralized exchanges (CEXs). It will also introduce DogeHub, an innovative gaming platform, and initiated influencer marketing campaigns to expand its reach and engage with a wider audience. Additionally, it will launch DogeWin.
In Phase 3, the focus is on key initiatives, including the release of exclusive Doge Rush NFTs, subjecting the platform to third-party audits with Certik being the primary auditor. It will also place a strong emphasis on forging partnerships with major CEXs. In the fourth phase, the objective is to secure listings on major exchanges and ensure widespread accessibility. Additionally, it will seek partnerships with renowned gaming studios, establishing collaborations that elevate the gaming experience offered by Doge Rush.
Get Your $DR in the Doge Rush Presale
Those who want to find the next big meme coin should certainly consider Doge Rush. There is a lot on offer here and unlike other meme coins, it actually offers utility. Those interested should check out the presale quickly, as it is still in the early stages.
Disclaimer: This is a paid release. The statements, views and opinions expressed in this column are solely those of the content provider and do not necessarily represent those of NewsBTC. NewsBTC does not guarantee the accuracy or timeliness of information available in such content. Do your research and invest at your own risk.