e-Chat welcomes users and potential investors to try out and support the third and final round of e-Chat's token sale. To date, the e-Chat ICO has exceeded early goals and continues with strong momentum.
e-Chat is designed as a convenient and secure platform for financial transactions across the global cyberspace and is based on the modern decentralized architecture. The application provides a high level of privacy and security to its users while preserving financial freedom.
Business and personal video group calls are available for groups of up to 10 people offering a genuinely unique communication pattern.
Major benefits:
– Protection from censorship worldwide
– Flexible user-centric payment features
– Integrations with major cryptocurrencies
– Sane financial models designed to promote global growth
– Wide national language support
3rd Round of Token Sale
The third round will include a bonus, and best deals are available in the first days of the round.
– January 8-15, 1 ECHT costs $1.05 (30% bonus)
– January 16-21, 1 ECHT costs $1.125 (25% bonus)
– January 22-31, 1 ECHT costs $1.20 (20% bonus)
– February 1-8, 1 ECHT costs $1.275 (15% bonus)
– February 8-15, 1 ECHT costs $1.35 (10% bonus)
e-Chat designers and developers are committed to delivering enhanced functionality and friendly interface. We would like to introduce the upcoming e-Chat face-lift for that reason. Feel free to give your comments at the Official Telegram chat: https://t.me/ico_eChat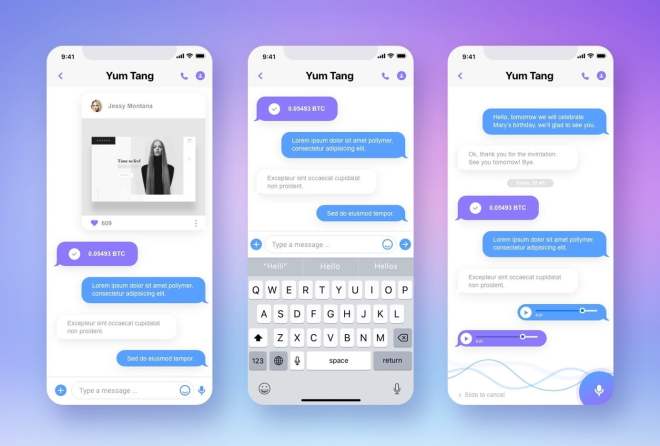 Team of founders is looking forward to seeing you again
Recognizing the importance of the composition of stakeholders, this new social media application is based on the ideas of some of the world's finest minds in finance, entertainment, project management and blockchain technology. Advisors and team members include:
Johan Staël von Holstein is a Global Leader of tomorrow and 3 time Internet Guru of the Year and Entrepreneur of the year.
Alex Vincente is e-Chat's Chief Business Development Manager and actively represents the startup at various conferences worldwide.
Sridhar a former Chairman and Managing Director of the Central Bank of India and of National Housing Bank prior to that.
Ryan Scott is an experienced entrepreneur and investor. He was formerly the CEO of Causecast and the current CEO of the ICO Advisory Group and investment strategist at BlockRx and Karma.
Jared Polites is a Fintech and Blockchain expert with over 20 ICOs of experience.
Robbie Hoyes-Cock offering a magical party experience with the racing community.
Michael MA is the inspirational leader and friend of political and business leaders, royalty, and celebrities from around the world
For detailed information visit:     https://echat.io/
Email: investors@echat.io