The interest of potential investors to the new market is understandable, as alternative investments compared to traditional ones give the opportunity to profit more than 1,000% per year, and the apparent market bull trend allows expecting even higher levels of profit. The forecasted profitability on cryptocurrency investments may exceed 1,250%.
Not Too Late
However, cryptocurrency market capitalization lags other financial markets. There is an interesting chart from HowMuch, where bitcoin's place in the general picture of world money is visualized (Figure 1). Apparently, the growth potential is huge enough to make money on that.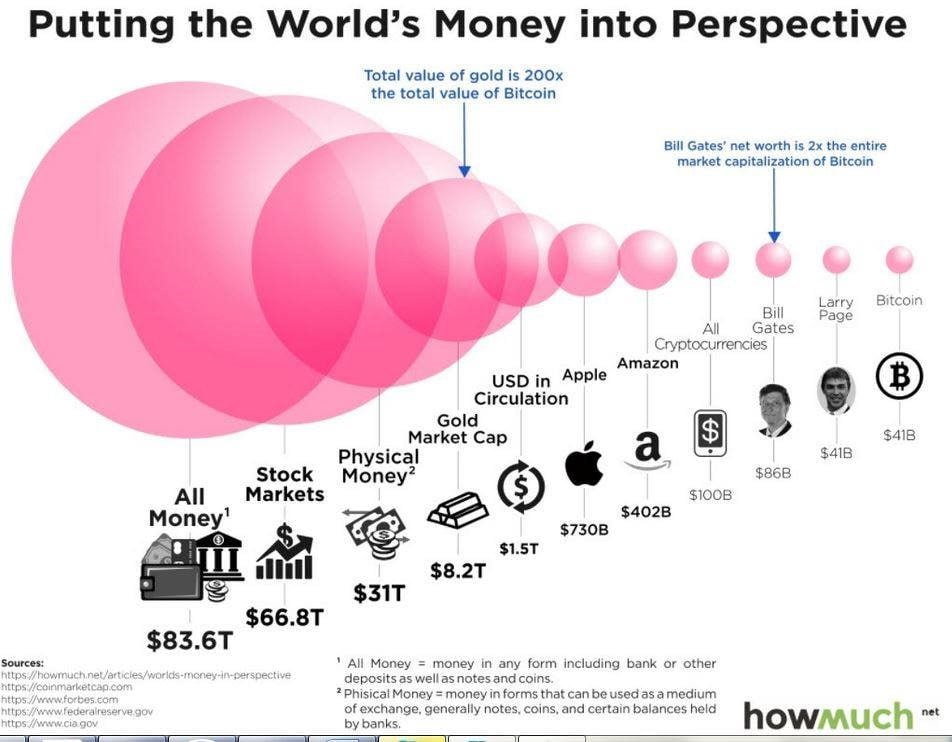 The pace of market growth leads many people to the crypto industry. Those who have never been engaged in such investments before.
The lack of market experience for most investors, high risks due to the uncertainty of the external and internal environment, the obvious "bubble" in many crypto assets, and the likelihood of fraud in some ICO – all this may make investors lose their funds in this market.
CryptoFund Solves Problems
CryptoFund solves this problem by offering its trading and financial experience. It also provides potential investors with developed investment strategy aimed at earning money on any market moves.
In the short run, CryptoFund plans to enter global markets, attract traditional institutional investors from around the world, and provide user-friendly investment from a mobile device for all customers.
And that's why the company decided to launch an ICO.
CryptoFund Token Sale
The CryptoFund token sale is slated to begin November 13, 2017, and will end on December 13th, 2017. There is also a Pre-ICO starting from October, 2 and ending on October 23d, 2017, during which tokens will be available for investors with a discount of 50%. The maximum volume for token sale is three million. The starting exchange rate within Pre-ICO amounts to $0,5. And it rises to $1 per token during ICO sale.
Token Distribution
What Is CryptoFund
CryptoFund is a diversified algorithmic crypto fund investing in crypto technologies and blockchain.
The market of cryptocurrencies is growing at an aggressive pace. However, this rapid growth is accompanied by huge volatility, uncertainty and distrust to participants and infrastructure. The company experience in financial markets, credibility among professional traders, investors, financiers coupled with blockchain technology makes it possible to make the crypto industry extremely transparent, open and safe for the broadest groups of users.
The company mission is to make investments in cryptocurrency affordable and understandable for everyone.