Smart decisions: KICKICO, a blockchain-based platform for fundraising in cryptocurrencies, named the "ICO of the year" and the one who successfully launched 8 projects on its platform and hosted the largest blockchain and crypto event of 2017 – Cryptospace Moscow,  shares its warm news in the crypto community.
 Jan 23, 2018.  KICKICO is making work with projects and authors more effective and it is to provide the campaign information to its community in the most comprehensible, transparent and tractable manner. A newly renovated and improved interface for campaign authors and followers: all the data in one page, including countdowns, fundraising statistics, and campaign updates are put together for best convenience and integrity, facilitating the user to make a conclusion regarding investment in the project.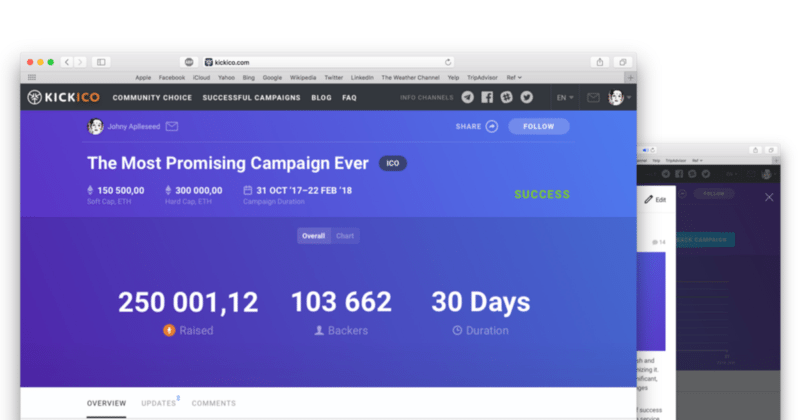 Users can always browse KICKICO website to check out all the changes, here let KICKICO quickly walk through the new stuff to stay on the same page with all the members of its 50 000 community:
First, with every new campaign now there is a new widget to keep track of the oncoming campaigns and stay tuned, so every backer and follower could stay tuned and never miss a great chance with the desired token sales. With this particular campaign that has recently finished, the user receives all the info about the duration and collections of the token sale and the number of backers, also available in the linear chart form.
Now accessing any campaign's page a visitor can access three fields below the chart, the first one giving a general overview and detailed description of the campaign, updates, and comments. The comments are pretty self-explanatory, this is where a user can direct all the questions, concerns and inquiries immediately to the campaign team and get feedback without ever closing the page or using side channels.
The updates field is a new feature to make following a campaign most convenient: now is shall be made unnecessary to follow an obnoxious set of 15 separate chats, channels and tweets from various resources since the campaign's author will be able to upload all the news, posts, inventions and new developments directly to the campaign. Thus, making a smart decision becomes much easier and consumes far less time. Besides, we encourage users to participate in commenting and discussing campaigns and their updates right there: first, putting many heads together definitely provides a broader overview and judgment of a project's aspects, and second, there is nothing more valuable to give to a new campaign rather than your feedback.
Developing backer-oriented smart projects is the major priority in KICKICO's performance. Bringing up the most balanced user-friendly functionality of KICKICO that would fit both backers and campaign creator: the current one is to precede a wide set of many changes and upgrades to provide the user with the best service. A whole series of multiple developments and campaign features that will now start to come out regularly to make KICKICO and its community the highest advance peak of the market.
About KICKICO:
KICKICO —  A platform for ICOs, crowdfunding, and crowdinvesting projects, KICKICO was founded in 2015 and raised during its ICO in September 2017  more than 84 000 ETH, that now equals to more than $ 80 mln. By the end of 2017, KICKICO has 50 000 people community, KICKICO launched more than 8 projects on its platform, that successfully completed their ICOs and raised more than 150 000 ETH of total funds. Among them: Micromoney, Hacken, Universa, Playkey, INS, Storiqa etc. One of the main achievements is Cryptospace Moscow – the most global blockchain and crypto event of the year, which took place on December 8th and gathered more than 3000 people and  59 top worldwide blockchain and crypto speakers.
Masha Beetroot
Head of PR at KICKICO