Logarithmic Finance (LOG) is a multi-chain project encompassing DeFi lending, decentralised trading, coin, and NFT listing, among other things.
$LOG, the utility and potentially DAO token of Logarithmic Finance, has been up by over 240% since the launch of its presale—a good ROI for early investors. Meanwhile, this post will also point out other tokens, such as PancakeSwap (CAKE) and Uniswap (UNI), capable of offering more than 20% yield to investors this year.
Logarithmic Finance (LOG) — A Unique Multi-Chain DeFi Protocol
Not many DeFi protocols possess the proposition capable of swaying investors off their feet, especially in a season where there are a few competent cross-chain/multi-chain projects.
Logarithmic Finance is developing a protocol featuring multichain DeFi lending and borrowing, allowing innovators to contribute their tokens and get liquidity quickly and easily.
It will also feature a non-fungible token (NFT) listing on its protocol to allow cross-chain NFT interoperability.
All these features integrated by Logarithmic Finance will likely introduce real use cases for its utility token—$LOG—which will power a majority of its ecosystem in the future.
Since its inception, $LOG has maintained a positive trend, a good reason to make investors smile at their wallets with the negativities surrounding the crypto market this year.
Right now, $LOG will likely continue to soar until it gets listed in a crypto exchange. Meanwhile, there are only 4 billion $LOG tokens in total supply, with 1.2 billion available for presales and possibly ICO.
$LOG tokens not sold would be burned to maintain a deflationary value for the coin, capable of appreciating the token value subsequently.
Asides from the abovementioned facts, $LOG will offer holders many incentives such as governance rights, transaction discounts, better swap ratios, staking rewards, unlimited market access, etc.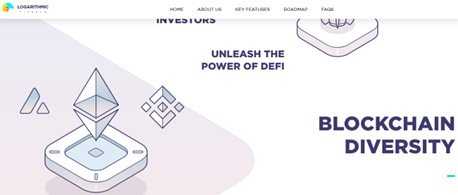 PancakeSwap (CAKE)
PancakeSwap is a popular name in the DEXs space, running an automated market maker model for decentralised crypto trading on its platform. Among the popular features and products of PancakeSwap is its utility and LP-based token, $CAKE, a BEP20 token.
$CAKE is phenomenal in powering a major part of the PancakeSwap, especially the liquidity/ syrup pool and AMM crypto exchange, offering amazing discounts for the token holders.
Additionally, it is a top store of value for many investors, which we can confirm by looking at the token's market performance. $CAKE has risen over 2,050,000% since its launch in September 2020, that a huge ROI for many long-term holders (considering its current dip).
$CAKE token reached an all-time high of over $44 in April 2021 but has steadily dipped, losing over 85% of its price since then. However, a favourable market condition could send the token soaring towards its all-time price mark and more—that means it could yield over 80% ROI to long-term investors.
Uniswap (UNI)
Uniswap is another similar protocol to PancakeSwap, the major distinction being their blockchain networks. While PancakeSwap runs on Binance Smart Chain (BSC), Uniswap comfortably runs on the Ethereum Virtual Machine (EVM).
$UNI, the utility and DAO token of the Uniswap protocol. Although Uniswap has been in existence before PancakeSwap, their statistics show they share a resemblance—including highs and lows of their unit prices.
$UNI is down over 88% since reaching the all-time high of $44.97 in May 2021. This downward trend has sparked speculation among holders. However, with the current market dip, the token could likely moon past its all-time high in the long term if there is positive crypto market news.
The $UNI token also offers its holders many benefits, including staking rewards and discounted transaction fees. Now could be a good time to analyze Uniswap's market and hodl.
Conclusion
The crypto market is crazy and risky and could liquidate your funds instantly. A good way to likely get the most out of a coin is by doing due diligence and analyzing the project behind the token, and then joining the presale stages of the project to get coins at cheap prices.
Logarithmic Finance (LOG) is still in a very early stage. If it could appreciate to this length, there is a chance that it could do more this year by the time it gets listed in a crypto exchange soon!
Learn more about Logarithmic Finance (LOG) through the links below:
Presale: https://presale.logarithmic.finance/register
Website: https://logarithmic.finance/
Telegram: https://t.me/LOGARITHMIC_FINANCE_OFFICIAL
Twitter: https://twitter.com/LOGARITHMIC_FI
Disclaimer: This is a paid release. The statements, views and opinions expressed in this column are solely those of the content provider and do not necessarily represent those of NewsBTC. NewsBTC does not guarantee the accuracy or timeliness of information available in such content. Do your research and invest at your own risk.