Digital currencies demonstrated a tremendous growth of value and adoption this year. Being recently used mostly for operations of speculative nature and storage of wealth, cryptocurrencies are now widely involved in transactions as a payment instrument.
The Qilin.Market introduced distributed protocol enabling usage of cryptocurrencies for what they were originally intended. Qilin Token that is the core of project allows organizing direct interactions between sellers, clients, delivery services and marketing professionals without intermediaries or geographical barriers affecting the final cost of products and speed of transactions.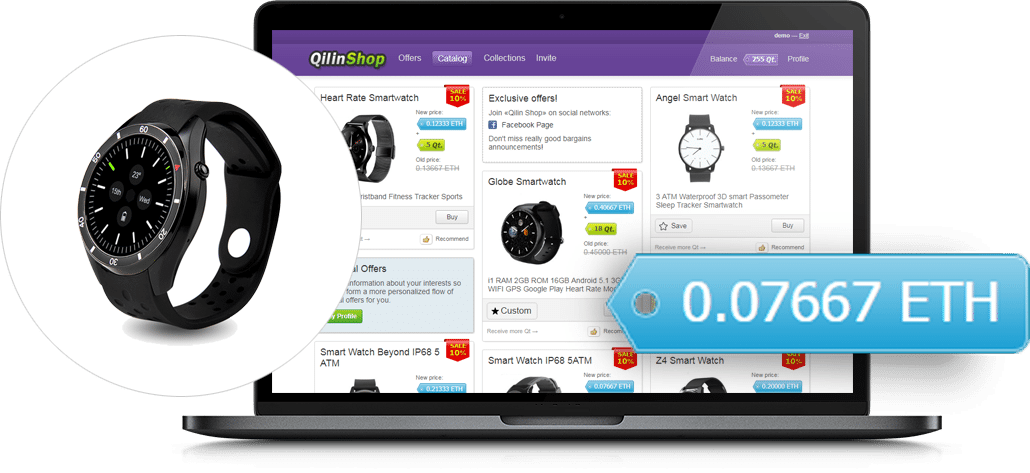 The core idea behind Qilin.Market is transferring funds for product purchase to a smart contract that assures seller would receive them only if product was accepted by customer. Shipment is assured by independent party in Blockchain using Oracle technology. That ensures safe transfer of funds for sellers and money back guarantee along with product quality protection for clients.
How it works?
The future of e-commerce in Qilin.Market model includes:
Sellers that want to sell a product
Clients that want to buy a product
Delivery Services that deliver a product and confirm its receipt by the Client
Merchants (marketing partners) that will help the Clients find the Sellers' products for the reward from the Sellers
Step 1 – Seller published his product offer
First, the Seller puts its products to the Qilin Marketplace and sets the price for the goods in cryptocurrency or fiat currency. Also, the Seller sets the reward amount for the Merchants for attracting new clients. Thus, the product becomes available to all stores connected to Qilin.Market.
The Seller can set the Delivery Deposit and must put it to the smart contract with the Delivery Service to ensure successful delivery to the Client.
The Seller can set a discount on its products for the Clients that use Qilin Tokens.
Step 2 – Merchant helps Seller find a Buyer
Anyone can clone Qilin Shop code from Git and start earning Qilin Tokens for promoting products. Buyer finds the product on Merchant's shop and transfer cryptocurrency to smart contract to purchase the product.
In order to confirm the order Seller transfers Qilin Tokens to the same contract to make the Deal Deposit and Merchant Reward. Delivery Services deposits the Delivery Deposit to a smart contract in Qilin Tokens and deliver the goods to the Clients. Deposits are returned
All Deposits are returned to parties after successful completion of deal.
Step 3 – Product shipment
After the goods are successfully delivered to the Client, the Seller receives payment for the product and Delivery Service receives delivery price; the Merchant receives a reward. All deposits are returned.
After the smart contract fulfills its function, all parties of the transaction can leave feedback about each other.
In order to work with larger amounts of orders both Seller and Delivery Service need more Qilin Tokens. The more customers there would be, the more products are on sale, the more delivery orders, the more demand on Qilin Tokens. Qilin.Market has a number of incentivization activities to rocket start the project, including classic discounts and affiliate program as well as massive marketing strategy on board.
"We believe that the main purpose of cryptocurrencies on a long distance is to make online payments, mainly for buying goods and services. It solves the barriers of international fund transfer processes and fragmentation of national payment methods that create major challenges for e-retailers and delivery providers today." – Denis Ivannikov, Co-founder of the Qilin.Market – "This approach will enable the use of cryptocurrencies to automatically secure all parties to the transaction and provide protection against scammers. Payments will be conducted directly through a smart contract, which will increase trust between the parties and save money by eliminating intermediaries."
Sellers will be able to sell their goods on the global market with almost zero commission. Each payment will be transparent and protected by a smart contract, which will also allow to get rid of bureaucratic red tape. Moreover, the Sellers will be able to set competitive prices, since they will sell their goods directly without trading networks.
The project team has already achieved a great success in this niche. Denis Ivannikov is the founder of ApiShip – the next-generation protocol for delivery services, which is used today by thousands of online stores.
Qilin Tokens pre order starts on December 1, 2017. Tokens would be distributed in batches with price rising on hyperbolic logarithmic progression for every next batch. That means every new issued token will cost a little bit more. A limited amount of Tokens would be minted with no new emissions ever to be made. That makes sure the token will never cost less.
More information on the project:
Website: http://qilin.market
Whitepaper: http://qilin.market/whitepaper
Facebook: https://www.facebook.com/qilin.market
Twitter: https://twitter.com/qilin_market
Blog: https://medium.com/@qilin.market