Singapore, 25th May 2020 – SpaceTravel, a Singapore based navigation and satellite technology company, has recently announced a strategic partnership with Biki Exchange, a top 20 cryptocurrency exchange by volume. With a strong crypto base in Asia, the listing on BiKi.com provides huge visibility for SpaceTravel in the region.
The partnership kicked off on during the early day of 25th May, whereby community users from Biki Exchange have shown a remarkable interest in the MAC Token project, resulting in the sale of the token supply reserved for MAC Token Subscription Model in a few minutes.
The MAC token discount subscription activity took place before the official listing of MAC, between 11:00 – 12:00 (2 sessions) and 12:00 – 13:00 (1 session), all of which sold out immediately after they were initiated. The listing process has completed and the token is currently available for trading on the Biki Exchange.\
Missed the first wave, don't worry. Biki and SpaceTravel has a lot to offer in the next few days.
Over the next two weeks, promotional campaigns include Telegram bounties, net buys with cashback, and a 10% MAC HODL staking offer.
MAC Net Buy with Cashback Rewards (up to 20%)
Activity period: 2020/05/25, 15:00 – 2020/05/31, 24:00 (GMT +8)
Rules:
During the activity, cashback rewards will be given according to the ranking of total effective net buy
(net buy = buys – sells – withdrawal):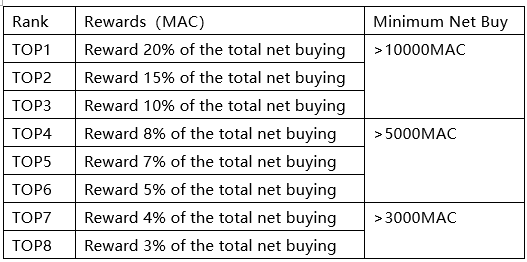 Participation Rewards: Except the TOP8 winners, verified users with net buy volume ≥1000MAC will get to share 10000 MAC.
Note: Net buy = buys – sells – withdrawal (if withdrawal occurs during the activity, the net buy volume will be reduced by the withdrawal amount)
Interested in the event? Follow this link to participate in this activity now!
HODL MAC and Enjoy 10% Annualized Yield
Activity period: 2020/05/25, 15:00 – 2020/06/07, 24:00 (GMT +8) ~ 15 days
Rules:
Issuing token for the earnings: MAC
Expected annualized yield: 10%
Minimum quantity per user: 1000MAC
Maximum quantity per user: 10000MAC
Participating method: Users with holding assets ≥1000MAC will be eligible to enjoy the 10% annualized yield with flexible deposit, withdrawal and trading during the activity period.
Earnings distribution: T+1, i.e. the earnings will be distributed on the next day after the system take random snapshots of the user's MAC holding position for the day.
Account for snapshot: Strictly the MAC available balance in the user's Exchange Account.
Follow this link to participate in this activity now!
CEO of Biki Southeast Asia Ethan Ng present the occasion said "We are delighted to have SpaceTravel onboard BiKi." "We see many use cases for the platform, and SpaceTravel is demonstrably a project with immense potential. Already, a lot of crypto users have shown much excitement for the upcoming token listing."
Less than two weeks of launching its website, the SpaceTravel project has managed to attract substantial social media interest, garnering thousands of followers on Telegram, Twitter, Facebook, and LinkedIn. Its local and regional partners speak volumes – Singapore Land Authority, Singapore Fintech Association, China's UnionPay, Bali Tourism Promotion Board, SGTech, Zilliqa Blockchain Network, Virtual Logistics and IMO.
"SpaceTravel is elated to be working with BiKi in this pivotal listing phase," enthuses Ping TH, CEO of SpaceTravel. "Thanks to the partnership with BiKi, the BUBU Lifestyle App can reach and serve an even greater community upon its launch. The innovative, forward-thinking, and dynamic nature of BiKi is highly synergistic with SpaceTravel, and we foresee ongoing support for SpaceTravel's future product launches beyond the BUBU Lifestyle App."
Bubu App by SpaceTravel: A Commercial Solution Utilizing Military-Grade Technology
With origins in offering military-grade satellite and navigation technology to government and private entities in the region, SpaceTravel is certainly not lacking in the location intelligence technology department. A "sneak peak" of SpaceTravel's satellite navigational prowess can be seen on Singapore Land Authority's OneMap (under Base Maps > Satellite).
Through the BUBU App, Space Travel strives to create a lifestyle ecosystem for the travel and tourism industry, using a globally available navigation app that includes both outdoor and indoor mapping (rarely available), merchant ratings, and discount coupons. Utilizing AI and AR technologies it enables users to navigate the best community-curated destination deals while enjoying a gamified reward experience. Integrated with Chinese social media platforms, BUBU also offers UnionPay payment solutions, hence solving many pain points for Chinese tourists.
A Tokenization Model of Utility, Exchangeability, and Liquidity
SpaceTravel utilizes blockchain and cryptography to create a payment infrastructure that enables seamless, cost-effective, and faster payments. Noting that loyalty points from many businesses are usually non-exchangeable and end up being wasted, BUBU issues reward points that are redeemable against MAC tokens, providing a system that ensures utility, exchangeability, and liquidity through exchange listings. Designed to be self-sustainable in operations with multiple revenue streams, the BUBU business model is one that hearkens to the future.
Stay Tuned
SpaceTravel currently has an array of initiatives lined up, including but not limited to:
a WeChat program designed in partnership with various tourism boards due to launch end May/early June; a "brewing" operational expansion in "the land of sushi and ramen"; a signing ceremony with UnionPay and Bali Tourism Promotion Board; discussions with tourism boards across APAC on how SpaceTravel and BUBU App can play a role in the revival of tourism and travel, especially critical during this COVID-19 induced economic downturn; a PS (Payment Services) Act license application with Monetary Authority of Singapore (MAS)
Presently, BiKi.com has also filed for a similar licensing with MAS, another point of alignment between the two partners, as they both support a regulatory and compliance framework that works to protect the interests of all their stakeholders.
To participate in the MAC Staking and MAC BuyBack activities, please follow this link: https://www.biki.cc/en_US/noticeInfo/2672
Important Links: