The emerging cryptocurrency, CreditBit has managed yet another breakthrough. The cryptocurrency fueling the Credit 2.0 platform is now listed on Bittrex, one of the leading cryptocurrency exchange platforms. The new development was announced by Credit 2.0 on its social media channels.
Richie Lai, one of the founders of Bittrex also announced the opening of CreditBit – Bitcoin pair on the exchange a few hours ago. Lai, took to Twitter, as he always does and declared the successful launch of the cryptocurrency on the platform.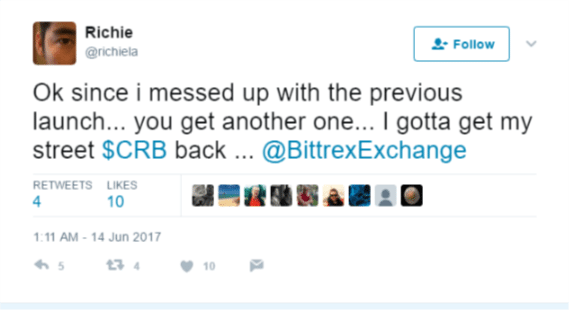 With the latest listing on Bittrex, the CreditBit tokens (CRB) are now trading on four different exchanges including Livecoin, DABTC, and Crypto Dao. An increase in the number of trading platforms also translates to a much wider reach, which will, in turn, bear a direct impact on the demand for CRB in the coming days.
Since the platform's upgrade from earlier CreditBit to Credit 2.0, the cryptocurrency has seen a considerable increase in demand. The trading volumes of CRB recently shot up by 200% within a week indicating growing interest among cryptocurrency community members, resulting in the further strengthening of its value.
Listing of CreditBit on Bittrex is one milestone that was long due in coming. The team behind the cryptocurrency platform are an active lot. They have been working relentlessly for a long time to ensure constant cumulative improvements to the platform. The Credit 2.0 upgrade has turned the platform from being just another cryptocurrency to a valuable blockchain platform with lots of potential applications.
Many community members welcome the introduction of CRB/BTC pair on Bittrex, and the order books on the exchange have already started filling in, within minutes after the new pair went live. Bittrex features among one of the few multi-cryptocurrency trading and exchange platforms with high volumes of overall trades from across the world. With CRB now onboard Bittrex, it is just a matter of time before the cryptocurrency gained the attention of other big names in the market.
CreditBit has always maintained transparency regarding the platform with its community members, helping it earn their confidence, which combined with easy access to trading on Bittrex and other exchanges will most definitely spell out good news for CreditBit. Those planning to add CRB to their portfolio can now do so without second thoughts and see its value grow in the coming days.