As the seconds pass, COVID-19 continues to wreak havoc at an alarming rate, affecting millions of people around the globe. The damage is massive, even prompting WHO to declare it a pandemic earlier this month on March 11, 2020. As a seemingly feeble effort to slow down the spread of infection, extensive quarantine measures and even total countrywide lockdowns have taken place. People are shutting themselves inside their homes and establishments are closing or are forced to close indefinitely. The world is now experiencing a major disruption in economic activities. Amidst this financial chaos, how are Bitcoin (BTC) and the crypto world holding up?
Since 2010, Bitcoin took the lead and introduced the world of cryptocurrency to the financial market. The so-called "Bitcoin believers" soared in numbers as more investors lean on BTC as a faster and more secure possible substitute for the fiat money system. Despite being on the volatile ground, we witnessed BTC peaked at nearly $20,000 in 2017 before jumping in a roller-coaster ride in the following years.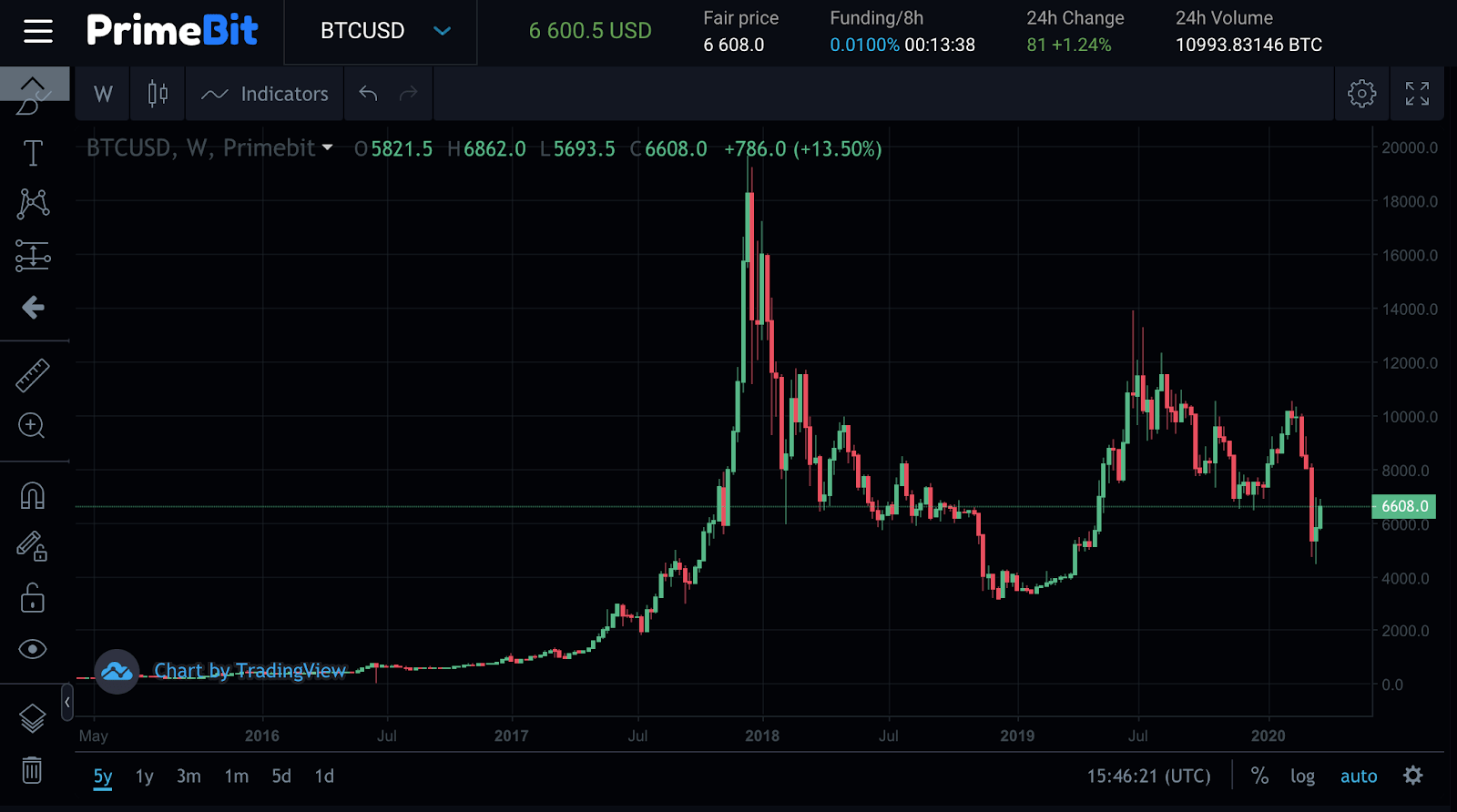 Bitcoin's historic spike in 2017, PrimeBit WebTrader
Yet again, BTC stumbled down when it was just about to climb up to new heights. As panic brewed during the coronavirus pandemic earlier this year, BTC plunged to $8000 despite reaching the $10,000 high in February. Then on March 20, BTC climbed back to nearly $7000 from resting at $4000 on March 16, a 75% price increase in 4 days. This is truly a volatile period for Bitcoin. But is the circumstance bearing towards the bad for this cryptocurrency?
Bitcoin price jumps in February and March 2020, PrimeBit WebTrader
As the financial markets suffer sharp losses around the globe, central banks will pump liquidity into markets, which will likely result in a deflation of fiat money value. On the other hand, BTC has a finite supply and can maintain its value as fiat currency values drop due to inflation. People are also preferring digital forms of financial exchange due to lockdown measures. Banca Sella, one of Italy's leading banks, started offering BTC trading services so that citizens can resume financial transactions such as making payments or transferring international funds amidst the national lockdown. It is a huge step to the mass adoption of Bitcoin in Italy.
Search volume of "buy Bitcoin" in the past 90 days, Google Trends
While crypto prices are generally low in these trying times, statistics show that investors are actually buying more BTC rather than selling their assets. According to Google Trends and Twitter stats, people are looking into buying BTC now. In fact, cryptocurrency exchanges have experienced a surge of new accounts and traffic records.
In the present global turmoil, the coronavirus seems to be the biggest challenge for Bitcoin yet, but it might as well be an opportunity for the crypto world to prove its worth. At PrimeBit, you can maximize your profit potential without investing a lot. It offers up to 200x leverage on trading, the highest available on the market.
Image by rottonara from Pixabay