The crypto market made a cautious move upwards this week, even as regulators sought ways to correctly address this nascent, yet controversial industry.
SEC Denies 9 Bitcoin ETF Applications… Or Did They?
On Wednesday afternoon, the hearts of all crypto investors stopped, as the U.S. Securities and Exchange Commision announced that it would be denying nine Bitcoin-backed ETF proposals from ProShares, Direxion, and GraniteShares. While the nine ETFs were inherently dissimilar, with some offering leverage, shorting, and other unique features, the reasons for denial were near-identical across the SEC's three documents regarding the verdict.
In the documents, the SEC brought attention to its fears of manipulation, noting that Bitcoin markets lack "significant size," coupled with the fact that there is still a risk of fraudulent "acts and practices" in crypto markets.
But in an unexpected turn of events, the SEC Commissioner Hester Pierce, who has been dubbed "Cryptomom" by the community, revealed that the Commission would be "staying" and reviewing the denial verdicts in accordance with the Commission's 431st Rule of Practice.
In English: the Commission (Chairman and Commissioners) delegates some tasks to its staff. When the staff acts in such cases, it acts on behalf of the Commission. The Commission may review the staff's action, as will now happen here.

— Hester Peirce (@HesterPeirce) August 23, 2018
Putting the rule into layman's terms, Peirce wrote that the Commission has the right to delegate cases to certain members of staff, but retains an opportunity to review the actions of said staff if the need may arise.
Don't get too excited, folks.

Under Rule 431 of the SEC's Rules of Practice, it only takes a single Commissioner to order a review like this. @HesterPeirce deserves credit & respect for putting up a fight, but there's no reason to think yesterday's rejections will be reversed. https://t.co/whxqOUkVXz

— Jake Chervinsky (@jchervinsky) August 23, 2018
While this sounds like the ETF proposals have a fighting chance, Jake Chervinsky, an American lawyer who holds an interest in the crypto legal space, divulged that the aforementioned rule cited can be activated by a single Commissioner. In this case, it is evidently "Cryptomom" who issued the order to review the proposal, reducing the chance of a verdict reversal greatly.  Nonetheless, many are still hopeful for September 30th's verdict deadline for the ever so promising VanEck and SolidX Bitcoin ETF.
China Doubles-Down On Crypto Ban Efforts
Since Bitcoin's infancy, China has quickly risen to the forefront of the development of blockchain and crypto technologies. But as Bitcoin market's value eclipsed previously established all-time highs, the local government began to crack down on the propagation of cryptocurrencies, by reportedly issuing a blanket ban over cryptocurrency exchanges and ICOs.
But as the age-old saying goes "rules are meant to be broken," with Chinese citizens quickly establishing alternative methods of trading cryptocurrencies and gathering ICO-related information. In the case of the former, ingenious Chinese crypto enthusiasts began to utilize the Alipay payment processing platform to establish illegal over-the-counter exchanges. In the case of the latter, users sought a variety of crypto-centric news sources on WeChat, China's main mode of communication.
While these methods of evading government restrictions were successful for months on end, in a recent move, the Chinese government has double-downed on its efforts to curb cryptocurrencies. In a matter of days, Chinese regulatory bodies cracked down on WeChat's crypto news outlets, Alipay's OTC exchanges, crypto-related events, and 124 foreign exchanges that were still available in the country's intranet.
Moreover, China's central bank also issued a warning regarding ICOs and crypto-related "scams," advising citizens to avoid such schemes that promote "illegal fundraising, pyramid schemes, and fraud."
Mt.Gox Commences Civil Rehabilitation Process For $1 Billion+ In Bitcoin
As reported by NewsBTC, the now-disgraced Mt.Gox exchange has recently entered civil rehabilitation proceedings to return its creditors over $1 billion in Bitcoin (BTC).
For those who are unaware, in early-2014, the Japan-based Mt.Gox was hacked for over 850,000 Bitcoin, which plunged the crypto industry into chaos, turbulence, and regulatory uncertainty. After some "searching," Mt.Gox' revealed that it had mysteriously recovered 200,000 Bitcoin from an exchange-owned wallet. Even after the liquidation of 30,000 of the recovered Bitcoin, there is still over 170,000 Bitcoin and Bitcoin Cash reportedly remaining in the exchange's coffers today. So now, over five years after the infamous hack, the exchange's creditors may finally get the crypto they deserve.
In a recently posted press release, exchange trustee Nobuaki Kobayashi revealed that the civil rehabilitation process has finally begun after years of waiting. Victims of the hack can now make claims for their lost funds via an online system, provided that prospective claimants submit the required legal documents. This process is set to be open for two months, which should be ample time for creditors to procure the documents to legally reacquire their funds. Following the claiming process, Kobayashi will compile the documents required and submit the claims to a Japanese court by February 2019.
Pending judicial approval, the aforementioned Bitcoin, which is valued at over $1 billion today, will be distributed amongst the verified creditors, who likely number in the thousands.
Mt.Gox creditors can now breath a sigh of relief, as the crypto they have been waiting for years may finally be arriving in their wallets in six to seven months time.
BitMEX Enters The Big Leagues With Office Relocation
It was recently revealed that BitMEX, the world's most popular Bitcoin mercantile exchange, would be reportedly moving into the world's most expensive office spaces. The Hong Kong Economic Times, this outlet who first broke this news, noted that BitMEX had leased out the whole 45th floor of the Cheung Kong Center. For those who are unaware, Cheung Kong Center sits in the heart of downtown Hong Kong and is home to Goldman Sachs, Barclays, The Bank of America and Bloomberg, making it a building full of powerful individuals and firms.
While Hong Kong is known globally as the world's priciest housing market, Cheung Kong Center takes the cake when it comes to extravagant office spaces, with each square foot costing an approximate HK$225 ($28.5) per month. If the reports are accurate, the exchange will be renting out 20,000 square feet, which will mean that BitMEX will pay the equivalent of over $573,000 each month just for rent.
While CEO Arthur Hayes has neither confirmed nor denied this rumor, many have speculated that this move could be likened to a show of force, with BitMEX's appearance in such an office space showing legacy market firms that crypto is here, and is here to stay for the long haul.
Others see this as a strategic move, with such a move putting the exchange within arms reach of the most influential financial and technology firms in the world. But most importantly, this move shows that BitMEX, which offers high-fee margin trading options, has still been raking in hefty profits, even as the crypto market has essentially fallen off a sharp, tall cliff.
Market Hesitantly Moves Upwards After Days of Low Volatility
It goes without saying that the crypto market has had quite a week, with traders, investors, and analysts alike meeting roadblocks at nearly every turn of the market. While the news cycle may indicate that "FUD" is circling the market, in the same way that vultures circle their prey, cryptocurrency values saw a slight move upwards. even amidst the regulatory troubles and uncertainty. Last week, the collective valuation of all crypto assets totaled to $210 billion but saw a minor 1.4% gain to reach $213 billion on August 25th. This gain, albeit near-negligible, may indicate that sentiment is beginning to shift in this industry, as the market has stopped negatively reacting to this week's set of pessimistic news.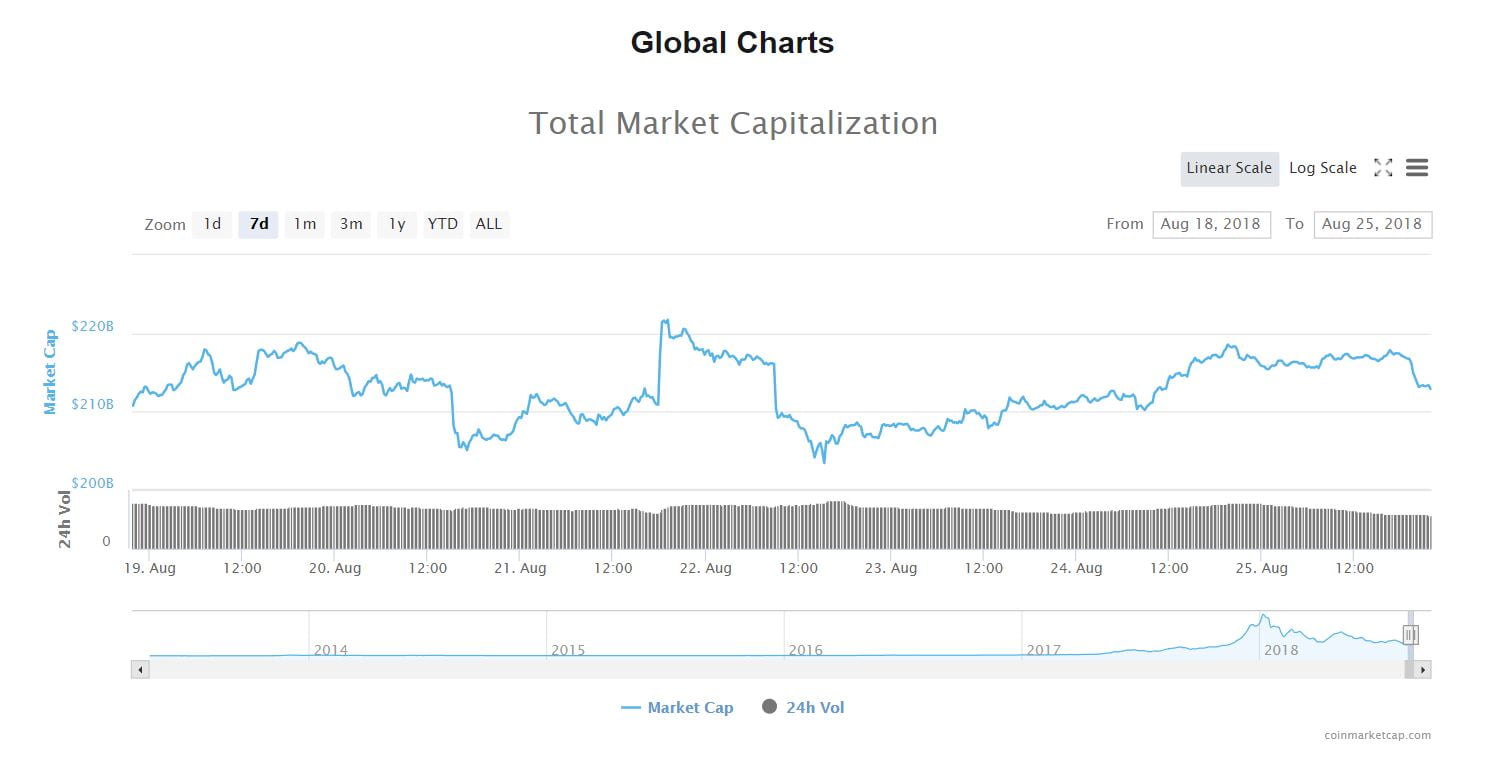 Bitcoin began its journey this week at $6,350, hovering between the $6,200 and $6,500 range for the better part of three days. But as BitMEX's scheduled maintenance session began, Bitcoin immediately surged by over $400, from $6,400 to $6,800, with many traders realizing how much of an effect the popular exchange has on the industry as a whole. But as the hype around the BitMEX maintenance session quieted down, with the exchange reopening its order books, prices began to calm down, with Bitcoin falling back to where it was prior to the debacle. However, following the SEC's announcement that it would be revisiting the nine ETF verdicts, Bitcoin saw a hesitant move upwards, as the slightest smidges of faith were restored in these markets.
But some altcoins haven't had it so lucky, with coins like Ethereum, Bitcoin Cash, Stellar Lumens, Cardano posting 5% losses or more, with the price action of these unfortunate altcoins being widely attributed to Bitcoin's slight resurgence in market dominance to 53.7%.
While investors in this market still seem to be in a state of uncertainty and confusion, as Arthur Hayes once said, "Q3 and Q4, I think is when the party is going to start again."
Featured Image From Shutterstock