Just a day before Bitcoin breached $11,500, a psychological resistance level, the cryptocurrency painted one of the strongest bullish signals of its eleven-year history as a financial asset.
On October 11, BTC/USD formed a leading 'Golden Cross' on its daily chart. The pattern emerges when the pair's short-term moving average jumps above its long-term moving average. Typically, analysts measure the Cross based on a crossover between a 50- and 200-period moving average. But it remains a lagging indicator.
Why 20-50?
Replacing the 50-200 crossover with the 20-50 one gives a more accurate, and real-time depiction of the market's bias – at least in the case of Bitcoin.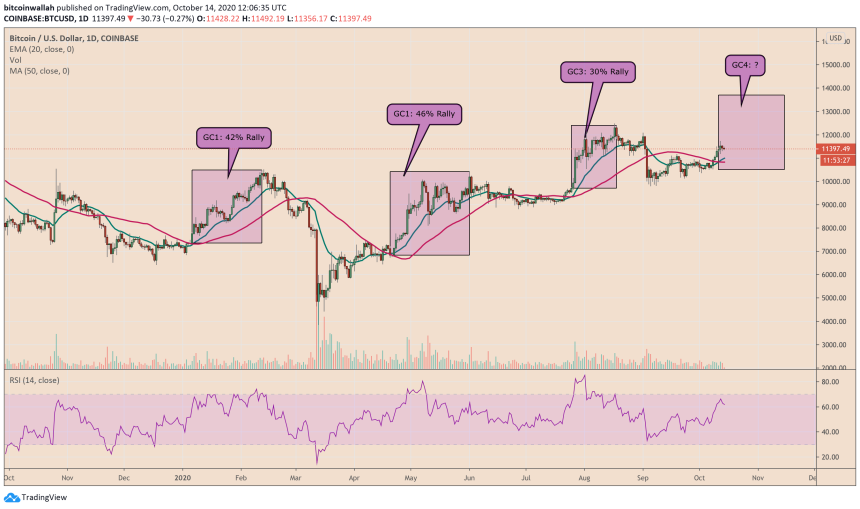 Bitcoin price has rallied by 40-50 percent in previous Golden Cross fractals. Source: BTCUSD on TradingView.com
The last three Golden Cross formations reflect that accurately. The first 20-50DMA crossover this year, referred to GC1 in the chart above, appeared on January 5. BTC/USD rose by 42 percent during the time the 20-DMA floated above the 50-DMA.
Similarly, GC2 shows a 46 percent price rally after BTC/USD confirmed another 20-50DMA Golden Cross on April 20. The sentiment was the same in the last crossover that took place on July 25 – and that sent BTC/USD up by circa 30 percent.
Conversely, the formation of Death Cross – an inverse of Golden Cross – sent the pair lower every time. It shows that traders watch the 20- and 50-DMA to decide their market bias.
Bitcoin Fundamentals Back Technicals
The latest Golden Cross fractal appeared at a time when major firms announced their involvement in the crypto market.
Just this Tuesday, Stone Ridge – a $10 billion asset management giant, revealed that it is sitting atop a $115 million Bitcoin investment. The firm went as far as building its own customized solutions for custody so they could also lure their customers into investing in Bitcoin.
The news came days after Square, a multinational payments firm headed by Twitter-famed Jack Dorsey, showed about $50 million worth of Bitcoin in its balance sheets. The company even left a whitepaper behind for firms. It showed how they can invest in the decade's best-performing financial asset.
Today, @Square announced that it has purchased $50M in bitcoin. Square believes cryptocurrency is an instrument of economic empowerment and provides a way to participate in a global monetary system, which aligns with the company's purpose. For more, visit https://t.co/HPhSMfVgac.

— Square IR (@SquareIR) October 8, 2020
Weeks and months before that, public-traded firm MicroStrategy and billionaire fund manager Paul Tudor Jones also poured considerable amounts into the Bitcoin sector.
Good fundamentals make better technicals. The said high-profile investments in Bitcoin validated the asset among people who were reluctant about investing in it. Some even noted that more companies may end up reallocating their cash reserves to Bitcoin as the US dollar loses value.
Not only @Square, in 2020 there are more than 10 Public Companies investing in $ BTC, with a total value of over $ 6 billion, equivalent to nearly 600,000 BTC.$BTC #BTC pic.twitter.com/7zxX94Clwx

— Coin98 Analytics (@Coin98Analytics) October 13, 2020
It is safe to assume that those expectations may end up validating the 20-50DMA Golden Cross, as well.