Bitcoin price continues to be propelled higher from aggressive dip buyers looking to ride the new bull market beyond $20K. But first, the cryptocurrency has to get through just under $16K where it was stopped in its tracks just days ago.
Today, the cryptocurrency is back at the key level and making its third attempt at breaking upward out of what appears to be a bullish ascending triangle pattern. Will the cryptocurrency make it beyond $16K and revisit its previous all-time high?
Bitcoin Retakes $15,900, Less Than $100 Away From Another New 2020 High
After Bitcoin price took out $13,800, in a flash it soared another $2,000 to nearly $16K where it was held from advancing further.
But the bullish momentum still hasn't reversed and instead has the cryptocurrency already revisiting highs due to dip buyers aggressively buying up what little BTC supply is left on exchanges.
According to quantitative analysts, there is literally not enough BTC on exchanges for buyers, causing a "sell-side liquidity crisis." More and more users are moving BTC off exchanges to hold in anticipation for the coming bull market.
Coinciding with this trend, companies like Grayscale and MicroStrategy are scooping up sizable chunks of the supply from other avenues, ensuring there is even less to go around.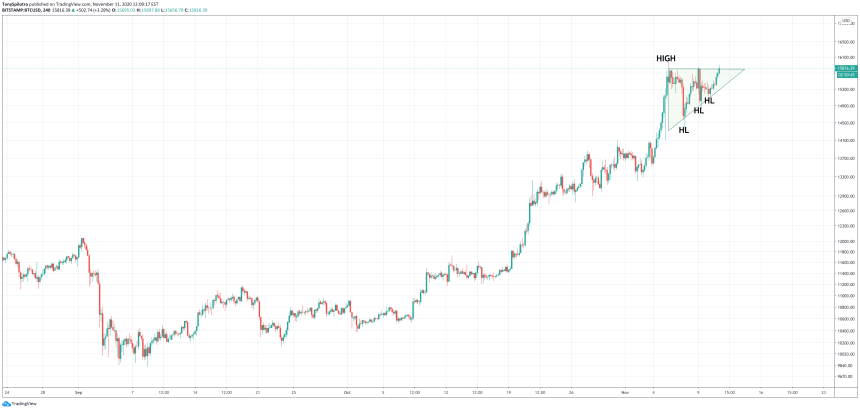 Bitcoin is possibly forming an ascending triangle with a target near ATH | Source: BTCUSD on TradingView.com
All this combined has Bitcoin price rising and it seems as if nothing can stop it much longer from revisiting $20K where the peak was set nearly three years ago.
If the leading cryptocurrency by market cap can break up from the ascending triangle structure supporting the asset with higher lows, then the target very well could be a new ATH.
Featured image from Deposit Photos, Charts from TradingView.com