After an extended period of consolidation that provided little insight into Bitcoin's near-term outlook, the cryptocurrency was able to post a breakout rally that has since sent its price surge towards $11,700.
This move carried significant weight, as it took place in the absence of an uptrend seen by the traditional market.
Analysts are now widely noting that further upside could be imminent in the near-term, as BTC is now stable above its key resistance that previously sat around $11,600.
So long as this level is flipped into support and is not broken below in the near-term, Bitcoin could be on the cusp of seeing further upside.
There are still some hurdles that sit in front of the cryptocurrency. One analyst is noting that $12,000 is the next key level that he is closely watching.
A break above this level could provide some serious momentum, potentially sending it straight up towards $13,000.
The same analyst also notes that for Bitcoin to enter a full-fledged bull market, its price must surmount $13,000. A move past this level could put fresh all-time highs back on the table.
Bitcoin Sees Strong Momentum as Sellers Lose Control
At the time of writing, Bitcoin is trading up just under 2% at its current price of $11,700.
Previously, the cryptocurrency was caught within a multi-week consolidation phase between $11,200 and $11,600, with each visit to the upper boundary of this trading range resulting in rejections.
Today's move past this level has put buyers in firm control of its near-term outlook. Many investors are now anticipating further upside in the days and weeks ahead.
If a serious push higher occurs in the absence of any strength in the stock market, BTC could also break its close correlation to equities formed as of late.
Analyst: Move to $13,000 is Now "On the Table" 
While speaking about where he expects Bitcoin to trend in the near-term, one analyst noted that a break above $12,000 is crucial for BTC to see further upside.
He does note that $13,000 is now in the cards and that a move past this level could spark a buying frenzy that sends the cryptocurrency to fresh highs.
"Bitcoin is now up against major resistance. High time frame close above $12,000 and $13,000 is on the table IMO. If we want the FULL BULL, BTC will need to fully breach and close above 13K. Retest and flip the gray box to support and up it will go. (stimulus permitting)," he said.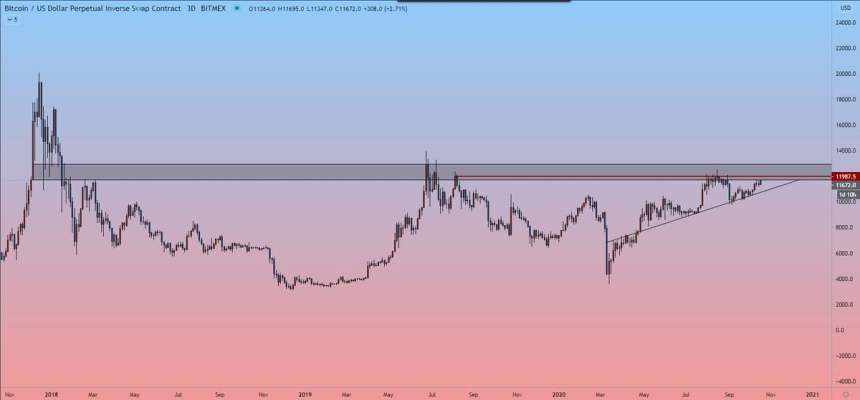 Image Courtesy of Chase_NL. Source: BTCUSD on TradingView.
The coming few hours may be vital for Bitcoin, as bulls need to extend their momentum or risk seeing another sharp selloff.
Featured image from Unsplash.
Charts from TradingView.