Bitcoin's uptrend over the past few months has been historic, with bulls taking full control of its price action and sending it from sub-$10,000 lows in late summer to highs of $28,500 just a few days ago.
After reaching these highs, the cryptocurrency's uptrend stalled, with the past few days mainly consisting of consolidation as altcoins begin gaining some momentum once again.
This uptrend's strength seems to indicate that the entire market could be well-positioned to see continuation in the mid-term. However, many analysts still believe that Bitcoin and other major altcoins will post a sizeable correction in the near-term.
Until BTC reaches the phase of its bull market where it truly goes parabolic – posting sizeable moves higher on a daily, or even hourly, basis – it could still be prone to seeing a large decline that clears out over-leveraged long positions and resets its funding/premiums.
It appears that hedge funds are banking on this possibility, as this body of investors on the CME is now shorter on BTC than they ever have been before.
Some of this short-side pressure could be due to these groups hedging their spot holdings, but the trend overwhelmingly suggests that they expect it to see a large downside movement in the near-term.
Bitcoin Consolidates as Altcoins Gain Momentum 
At the time of writing, Bitcoin is trading down just over 1% at its current price of $26,760. This is around where it has been trading throughout the past couple of days.
The selling pressure seen in the $28,000 region has been quite intense and may continue hampering its growth in the mid-term.
While it consolidates, altcoins like Ethereum are gaining some ground against it, which may indicate that a sustained bout of sideways trading from BTC will be what sparks the next "altseason."
Hedge Funds are Betting on a Big BTC Pullback
According to the latest Commitment of Traders (COT) report from the CME, hedge funds are widely flipping short on Bitcoin.
They now have more short exposure to BTC than ever before, which indicates that they are betting on a strong correction, as one data aggregator noted:
"21 – December CME $BTC Commitments of Traders (COT) report – Open Interest: 12,603 up 10.8% – Hedge funds net short new all-time-high (likely cash and carry trades)."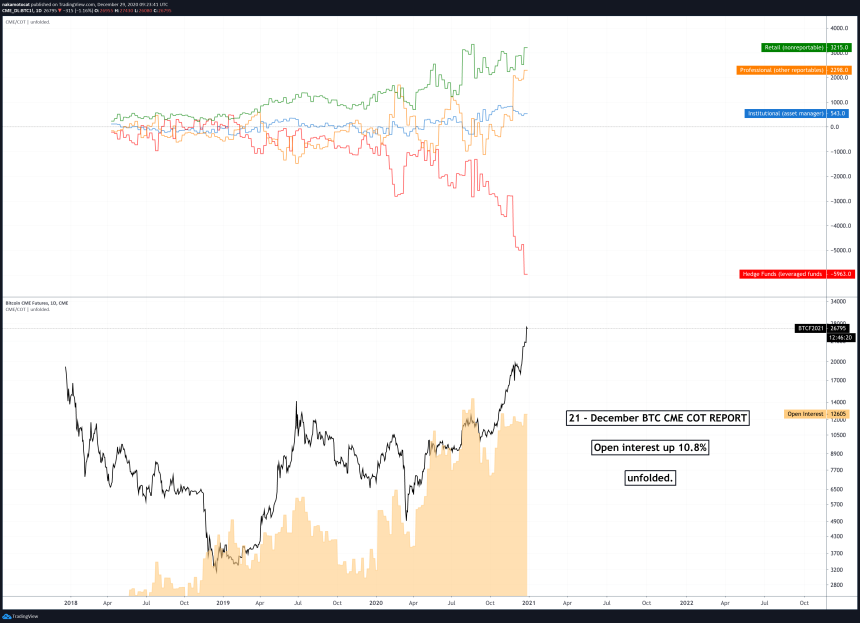 Image Courtesy of Unfolded. Source: TradingView.
While hedge funds are short, institutions, retail investors, and professional traders all have a long-bias for Bitcoin.
Featured image from Unsplash.
Charts from TradingView.