Bitcoin price is trading at nearly $50,000 per coin and on-chain activity is soaring. The recent bull trend and surging interest surrounding the cryptocurrency has allowed miners to surpass over $50 million in revenue in a single day generated.
Here's how rising Bitcoin prices combined with spiking transaction fees have made mining BTC a particularly lucrative venture.
Daily Bitcoin Miner Revenue Surpasses $50 Million
Bitcoin's gains in 2021 make the stock market, gold, and anything else look like barely a blip by comparison, and is the best performing asset on the planet in terms of total ROI.
Related Reading | Altcoin Market Cap On The Verge Of Life-Changing Breakout
Investors who bought Bitcoin at any point before the year began are in nearly two times profit, but with prices so high, even miners are making a killing compared to the cost of production.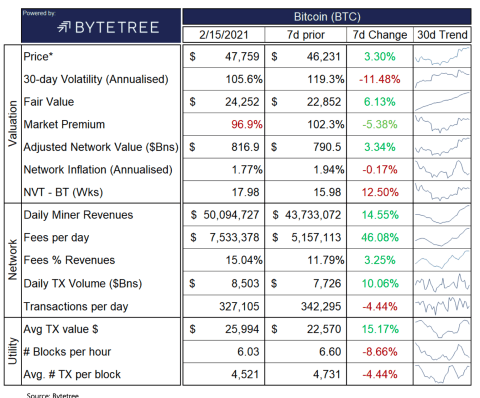 Fees are helping to drive miner revenue sky-high. | Source: Arcane Research
Data from Arcane Research shows that BTC miners combined have now reached over $50 million in daily revenue derived from new coins unlocked, and share of transaction fees.
The report reveals that although transactions are down week over week, the value being transacted has increased causing the portion of fees generated to increase in tandem. Fees now represent roughly 15% of total revenue, or $7.5 million in BTC.
Survival Of The Fittest, To The Victor Goes The BTC
BTC miners are clearly enjoying a profitable environment currently, and are in part a crucial piece to the uptrend. The theory is that the miners that are able to withstand bear market selloffs, ultimately are better prepared financially for the next bull market, and are able to hold stronger and allow for much greater mark up before needing to secure profits to cover operational expenses.
Some miners are in a better position than others, either through access to cheaper energy costs or by being better financially backed. Whatever the case may be, those who can withstand the bear market, rightfully earn the revenue when the market turns around.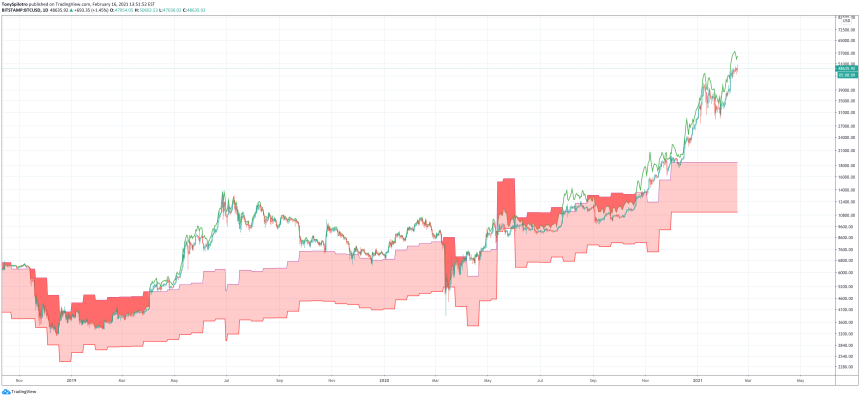 The cost of producing each BTC is under $20,000. | Source: BTCUSD on TradingView.com
Just like investors themselves, weaker handed miners sold the crash to $3,200 and were unfortunately wiped out during the Black Thursday selloff. Those that survived, or held their BTC reserves, have a lot more to sell now at more than 15 times the price then.
Related Reading | Forget 2021, Here's How High Bitcoin Price Can Go By 2026
Following Black Thursday the halving made the cost of producing each coin even higher, making survival that much more challenging. The halving lowering supply is only one piece of why the cryptocurrency rises after the event has passed. The other piece is this unique cycle of purging weak miners so that stronger hands can avoid selling during uptrends.
Given the $50 million in revenue per day generated, those who survived are doing just fine now.
Featured image from Deposit Photos, Charts from TradingView.com