The Bitcoin price rediscovered its form yesterday with a 4% gain on the day. Today sees a continuation of that form, as buyers managed to break $15.8k resistance.
Sustained buy pressure could see a push past $16k, a level not seen since January 2018.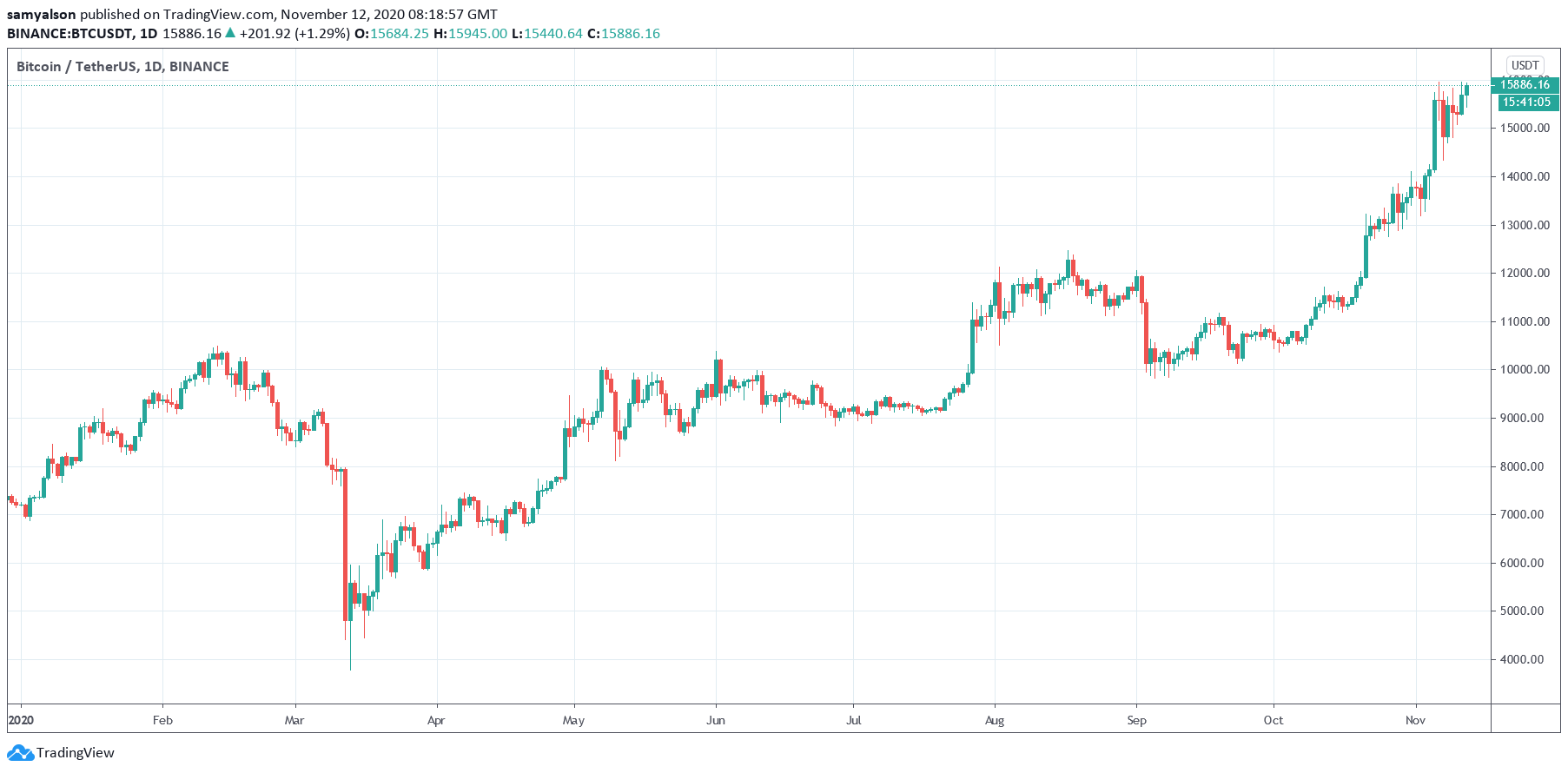 Source: BTCUSDT on TradingView.com
Analysts have attributed Bitcoin's recent renaissance to a variety of factors. Perhaps most influential is the flood of interest from corporate America – who look to Bitcoin as an inflation hedge during the uncertainty.
However, billionaire investor and founder of asset management firm Bridgewater Associates, Ray Dalio, sees it differently. He believes Bitcoin has no long term value given that governments will do all they can to crush those who oppose their fiat currencies.
Dalio Predicts Bitcoin Ban
Dalio has long been critical of Bitcoin and "alternative cryptocurrencies." Several years ago, during a CNBC interview, he implied Bitcoin was a Ponzi scheme that was soon to crumble.
"It's a shame. It could be a currency. It could work conceptually, but the amount of speculation that is going on and the lack of transactions [hurts it]."
While other influential figures in the world of finance, such as Jamie Dimon, have changed their tune over time, Dalio remains steadfast in his views.
In a more recent interview with Yahoo Finance this time, he spelled out the problems facing Bitcoin and "alternative cryptocurrencies."
"A currency has to be an effective medium of exchange, storehold of wealth, and the governments want to control it."
Expanding further, Dalio explained that Bitcoin is a poor medium of exchange as few outlets accept it for payment. Also, he points out that BTC volatility hampers its ability to store wealth.
But most crushing of all his points is the view that governments will ban Bitcoin once it becomes too big.
If it becomes material, governments won't allow it. I mean they'll outlaw it, and they'll use whatever teeth they have to enforce that."
Ray Dalio on #Bitcoin and digital currencies. (1/2)
Based on the arguments @RayDalio has against BTC, I think it's highly likely he will change his mind this cycle. pic.twitter.com/VSrRGYQjJd

— Dewan (@DHassan_77) November 8, 2020
BTC Market Cap On The Rise
Although Dalio does not represent the world's governments, his comments still have a ring of possibility to them.
As witnessed over the past few months, governments, even western democracies, have enforced draconian measures on their people.
That being so, as ludicrous as a Bitcoin ban sounds, it cannot be ruled out entirely. Especially so considering the competition Bitcoin presents to central bank digital currencies.
What's more, the Bitcoin market cap has seen a sharp rise since the start of September. Currently, it stands at just under $300 billion. Not much less than its all-time high of $320 billion.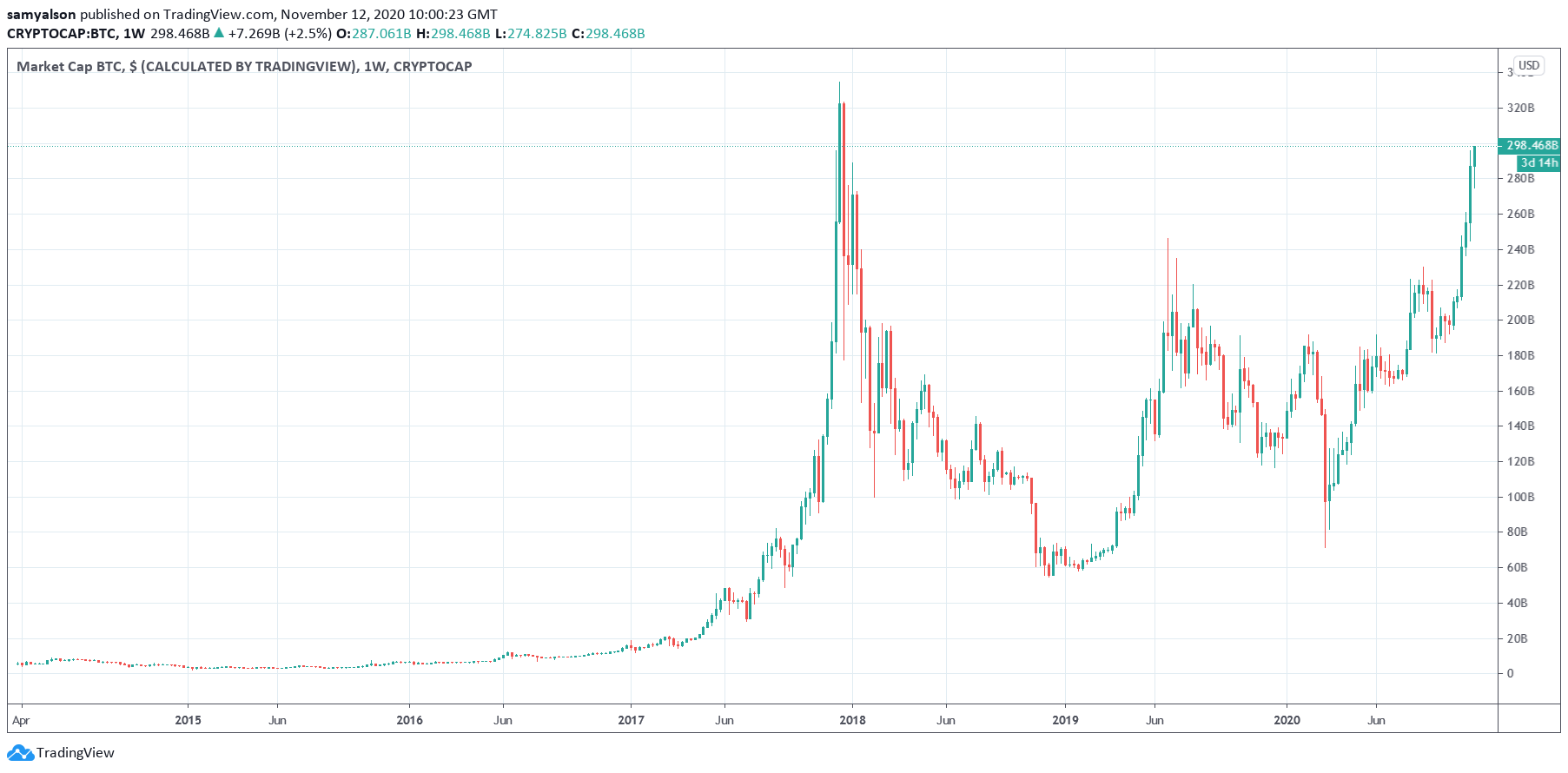 Source: Market Cap BTC on TradingView.com
With that, we are fast approaching a tipping point where Bitcoin could be deemed too big.
How this plays out is anyone's guess. But one thing's for sure, banning Bitcoin would be a further violation of our freedoms.