One of Venezuela's major international airports is making preparations to start accepting Bitcoin as a mode of payment.
The Simón Bolívar International Airport has announced arrangements for BTC, DASH, and Venezuela's oil-pegged crypto token – petro – for airport services.
Preparations To Adopt Cryptocurrency As Payment
Previously, Venezuelan regional news broadcasting company, El Siglo, reported that country's largest international airport is interested in cryptocurrency as a payment method.
Venezuela's international airport giant, Simón Bolívar International Airport also called "Maiquetia" has announced its interest in using cryptocurrency for payments. The enormous airport is located 12 miles away from Venezuela's capital Caracas.
Related Reading | Bank Of England Seeks To Strengthen Cryptocurrency Regulations
Freddy Borges, the director of the Maiquetia, stated that as time transits quickly, Venezuelans should also evolve. He also announced that the massive airport would be accepting numerous digital currencies as a means of payment for flight reservations and sundry other services.
Additionally, Borges said that Maiquetia's administrators would soon release new payment methods in collaboration with the country's National Superintendence of Crypto Asset and Related Activities.
The adoption of digital currency payments at the airport will mark Maiquetia's commitments towards improvements Internationally. He noted that this would also rally cryptocurrency acceptance massively within the country and worldwide.
Furthermore, the executive added that foreign tourists would take advantage of the crypto payments, including Russians.
Venezuelan Central Bank Digital Currency
Currently, Venezuela is experimenting on its Central Bank Digital Currency (CBDC), a novel crypto-asset pegged to its national currency.
The country also launched a CBDC as a Venezuelan digital Bolivar on the 1st of October. However, Venezuela's central bank stated that the CBDC wouldn't be worth more or less than the national token but only be used as a digitalized means of accessing the currency.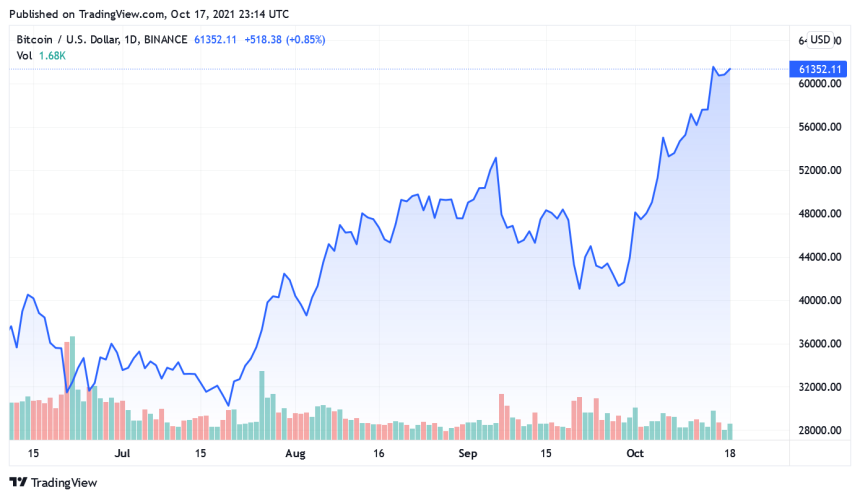 BTC rises past new highs | Source: BTCUSD on TradingView.com
Beginning on the 1st of October, the CBDC was launched with one Venezuelan Bolivar having an equivalent value in its digitalized form. Even banknotes from 5 to 100 bolivars had their own digitalized equivalents.
In addition, the Petro token was deployed in February 2018 as one of the country's national digital currencies. Unlike the CBDC currency, which is backed up by the Venezuelan national currency, Petro is backed up by the nation's oil.
Companies That Accepted Bitcoin As Payment Method
In August 2021, the Venezuelan carrier airport Turpial Airlines adopted a BTC-based payment option. Meanwhile, Caracas Air, the country's biggest aviation training institute, offered their students discounts who paid via Bitcoin.
Related Reading | Bank of England Governor Still Isn't a Fan of Bitcoin
Also, the food industry is not slacking behind in accepting bitcoin, leveraging the crypto's fame within the country. For example, Pizza Hut began accepting Ethereum and Bitcoin payments last year November.
Even Burger King had adopted DASH and Bitcoin as means of payment in January 2021 in over 40 of the country's restaurants.
Featured image by Pexels, Chart from TradingView.com