Gold hit its lowest levels in more than eight months on Tuesday, a day after holdings in the precious metal-backed exchange-traded funds fell by 14 tonnes, logging the biggest outflow seen in 2021.
Analysts blamed signs of an economic global recovery and rising US bond yields for the said decline. That is because gold does not offer any steam of interest payments, so it tends to perform poorly when bond yields rise.
Nevertheless, a veteran fund manager also noted that Bitcoin, the world's leading decentralized cryptocurrency, also provided tailwinds to gold's bearish bias.
Gold Shouldn't Be Down—But It Is
In an interview with Bloomberg TV, Dr. Mark Mobius, the founder of Mobius Capital Partners LLP — a London-based asset management firm, stressed Bitcoin's competitive edge over the gold market, noting that there is definitely a correlation that pushed the cryptocurrency's prices higher and the precious metal's rates lower despite a pro-safe-haven environment.
"Bitcoin is like gold — it's a store of value — so I think there is some relationship between these two," said Dr. Mobius. "It is one of the reasons why gold is down. Otherwise, there is no other good reason why the precious metal should be down."
The emerging markets investment professional had advised his clients to hold at least 10 percent gold in their portfolio in July 2020.
"Physical gold is the way to go, in my view, because of the incredible increase in money supply," Mr. Mobius had said.
Almost a month later, the precious metal's spot rate rose to an all-time high of $2,075.282 per ounce. Around the same time, the SPDR Gold Trust ETF's share value surged to $194.45 per unit, the highest on record. Nevertheless, it failed to generate additional upside momentum as Bitcoin grew into the conscience of other mainstream investors.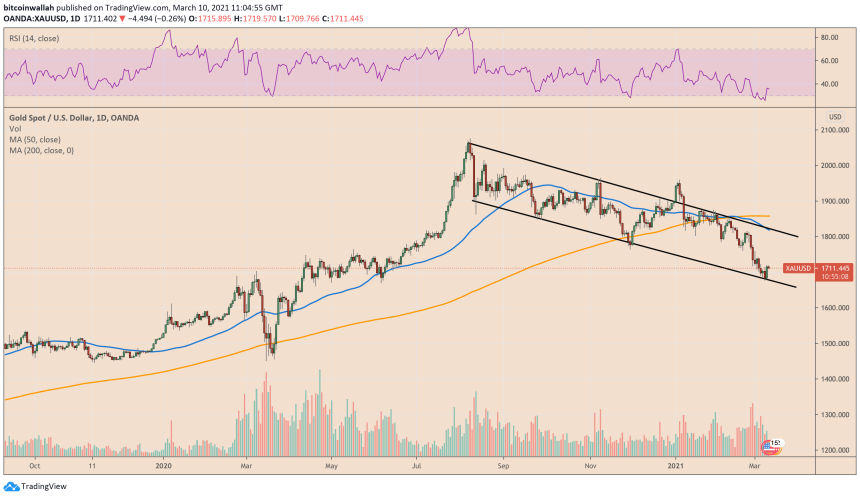 At first, billionaire hedge fund manager Paul Tudor Jones allocated 1-2 percent of his portfolio to Bitcoin Futures in May, clearly underscoring that the cryptocurrency could replace gold to become the next global safe-haven. Later in November 2020, Stan Druckenmiller also highlighted Bitcoin as a "digital gold."
"Frankly, if the gold bet works, the bitcoin bet will probably work better because it's thinner, more illiquid, and has a lot more beta to it," said Mr. Druckenmiller, withdrawing comments he made in 2018 when he said that he "didn't want to own bitcoin."
Bitcoin Rise to Fame
Bitcoin was trading around $16,000 at the time of Mr. Druckenmiller's endorsement of it. Meanwhile, gold had dropped about 15 percent from its record high. It was almost a month before PayPal, a payment services giant, had announced a new service that enabled cryptocurrency holding, purchasing, and selling via its traditional platform in the US.
The announcement pushed Bitcoin's status from a nascent asset to a serious global contender in the store-of-value sector. Later, Mastercard and Bank of New York Mellon also announced that they would integrate the cryptocurrency into their existing services.
Tesla and Square also added Bitcoin to their balance sheets as an alternative asset, while MicroStrategy raked in more than 90,100 BTC in a series of buying rounds. The latter now holds more than 70 percent of its reserves in Bitcoin.
Analysts at Citigroup also noted that gold is facing stiff competition from Bitcoin. Bloomberg's senior commodity strategist noted that the cryptocurrency could chalk up a valuation over $100,000 on gold investors' migration prospect. As of late, Bitcoin surpassed above $58,000.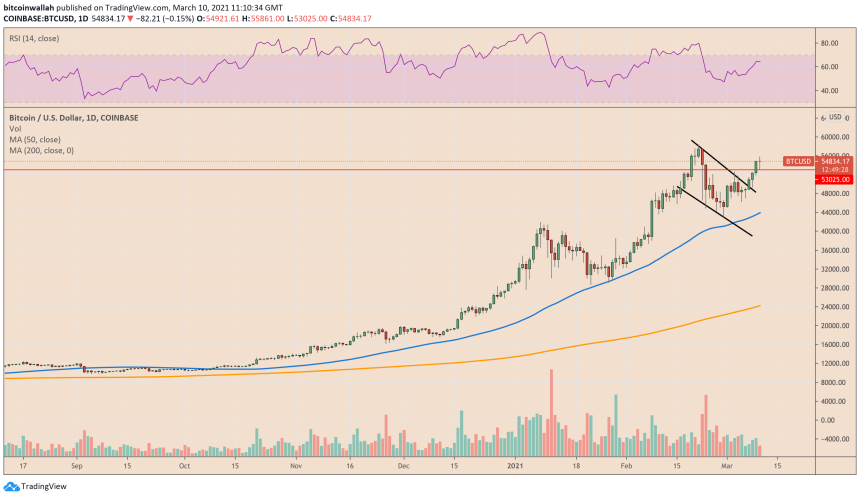 But hardcore gold bull Peter Schiff sees the outlook differently. The Euro Pacific Capital founder criticized corporates that added Bitcoin to their balance sheet, adding the gold will make a comeback.
"Gold is falling because bond market vigilantes believe the Fed will win a fight against inflation," he tweeted on Monday. "But when the Fed increases QE to save the bond and stock markets, it will be obvious that not only will the Fed lose the fight against inflation it will not even enter the ring."