Ethereum is still down by over 80% from its all-time high, but that hasn't stopped cryptocurrency users from increasingly adopting the asset.
Rafael Schultze-Kraft (
@n3ocortex on Twitter), the chief technical officer of blockchain analytics firm Glassnode, recently
shared
the chart below. It shows that the number of new daily Ethereum addresses with more than one transaction has increased dramatically since the start of the year, reaching levels not seen since 2018.
"Ethereum has seen a surge in usage in 2020. The number of new addresses involved in more than one ETH transfer has grown significantly this year," Rafael Schultze-Kraft commented on the chart.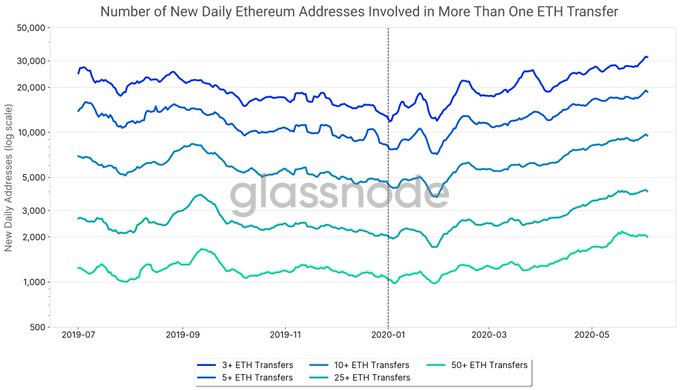 Boost to ETH's Bull Case
Analysts say that the increasing usage of the Ethereum network is rocket fuel for the cryptocurrency underlying the network, ETH or Ether.
The founder of Mythos Capital, Ryan Sean Adams, explained that over the past four years, the price of ETH has been closely correlated with the transaction fees Ethereum users pay.
Due to the increased blockchain activity, some of which was outlined by Glassnode's Schultze-Kraft, fees have skyrocketed over recent weeks.
If the historical relationship holds, ETH is poised to rally dozens of percent, a chart from Adams shows.
Not the Only Positive Catalyst for Ethereum
The increase in Ethereum usage is far from the only positive catalyst currently affecting the underlying market for ETH.
As reported by NewsBTC previously, the value of cryptocurrency locked in decentralized finance recently reached the $1 billion region for the second time ever. Analysts believe that the growth of DeFi will act as one of Ethereum's biggest drivers of growth in the coming few years.
The founder of MakerDAO Rune Christensen, for instance, said that Ethereum through DeFi will attract "all value" in the cryptocurrency space:
"4 million Dai was just minted with WBTC in a single transaction. This really showcases the latent demand for non-ETH assets, and it's the beginning of a broader trend of DeFi acting as an economic vacuum that will eventually attract almost all value to the Ethereum blockchain."
Adding to this, the first phase of the Ethereum 2.0 upgrade will go live.
The upgrade will introduce Proof of Stake into the ETH market, driving inflation of the altcoin lower over time.
The introduction of staking is expected to result in an influx in demand from long-term holders who want to stake their Ether in exchange for interest.
Featured Image from Shutterstock
Price tags: ethusd, ethbtc
On-Chain Data Shows Ethereum Usage Has Rocketed, Boosting ETH Bull Case