Today, it has been announced that the Octaplex Network, a project that has a new template for the way investors are rewarded, is being listed on Altbase from 12 PM PST, October 4th. The listing will enable users to buy $PLX using the Altbase platform, through trading with BNB.
Octaplex – Frictionless Yield Ecosystem On The BSC
Octaplex is an ecosystem network and frictionless yield concept that is built on the Binance Smart Chain.
The core goal for the team is to create a new template for the future development of DeFi projects, by connecting numerous different projects and their tokens, to allow investors to choose rewards in multiple different cryptocurrencies.
Altbase & Octaplex AMA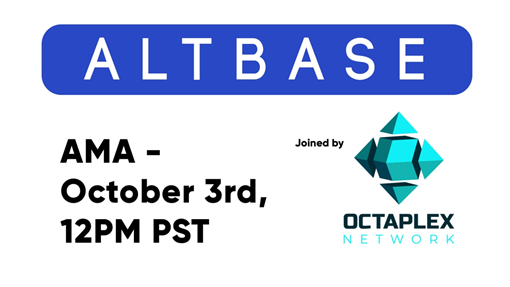 Altbase and Octaplex are holding an AMA at 12 PM PST on Oct 3rd, in correlation with the launch on the 4th of Oct. This will allow potential investors and the communities of both projects to ask questions, to get a better understanding of the direction and goals of Octaplex as well as its developers. The AMA will take place on the Altbase telegram channel.
Octaplex Network – Interoperable by Nature
The need for cross-chain interoperability is at the very heart of the Octaplex ecosystem. Allowing users to have much greater access to different blockchains, without the need for multiple swaps, and wallets is a high priority to Octaplex.
The concept is that if the ecosystem is frictionless and easy to use, the native token offering will benefit, and so will its users.
Octaplex aims to create this interoperability with the use of cross-chain bridge integrations on their network, with this implementation beginning to go ahead soon.
Providing Choice Is Key for Octaplex
The Octaplex ecosystem is focused on providing choice, both for the crypto reward selection, and the ratio of rewards that a user chooses to collect. Rewards currently include 12 different pegged token options that users can choose from to earn rewards. This list is expected to increase shortly as new crypto coins come on board with the Octaplex service.
The list of available token rewards currently includes pegged versions of BNB, BUSD, BTC, ADA, ETH, MATIC, XRP, plus 4 tokens of their trusted partnerships as well as their native token PLX.
Customisable Multi Token Rewards
Holders have the preference to customize their reward options with up to 6 different tokens as well as the option to select individual percentages of each token that they wish to receive.
40% BTC
20% ETH
20% PLX
15% BNB
5% ADA
Or any other amalgamation that is preferred.
Altbase And Octaplex – Quality Over Quantity
Altbase and Octaplex both share similar values concerning partnerships and collaborations. Investor safety is important for both camps, with both also holding a very strong anti-rug stance.
Although both projects do things in different ways in practice, they hold similar values when it comes to providing a safer platform for investors by listing only quality projects.
Refined Crypto Marketing by Market Leaders – Coinpresso
The development team at Octaplex has taken a strong approach to their marketing strategy, as they have chosen to use a crypto-specific marketing firm to drive traffic to their proposition.
Coinpresso is the top Crypto Advertising Agency based on performance, and because of this, Octaplex has chosen them specifically for their marketing needs over the next 6 months.
Oct 4th – Octaplex Goes Live On Altbase
Altbase makes the process to buy altcoins easy with a simple transaction process and hassle-free setup so that anyone can purchase their favorite altcoins and meme coins, with nothing more than a debit or credit card.
From Oct 4th, users will be able to purchase Octaplex's $PLX token on the Altbase application, which is available now on both iOS and Android.