Bitcoin price action is currently confusing crypto traders and analysts and the reaction after reaching a new all-time is not what anyone expected. The leading cryptocurrency by market cap was thought to explode once a new high was made, but instead, another up to six months of sideways could bring max pain to eager investors waiting for a correction or the next leg up.
Here's why Bitcoin could leave speculators sidelined at the last minute, just before the final parabolic impulse gets going and the cryptocurrency shows the world what is capable of.
Dip Buyers And Bears Alike Could Be Blindsided By Torturous Sideways Scenario
Bitcoin price is trading at $19,000 and bears and bulls alike are salivating for some decisive price action. The sideways trading has baffled some, who thought after the cryptocurrency set a new all-time high there was no turning back.
Without a major breakout, bears expected a rejection, and bulls have been waiting eagerly to buy the dip but neither scenario has yet to come. Instead, a sideways grind is playing out and traders are already frustrated and starting to sit on the sidelines.
But this is characteristic of Bitcoin reaching resistance during an early bull market. The high demand building during a phase of reduced supply keeps any selloff that would have caused downside previously at bay. There is absolutely selling going on from crypto whales, but even they aren't having the impact they previously had on price action, resulting in the stagnancy.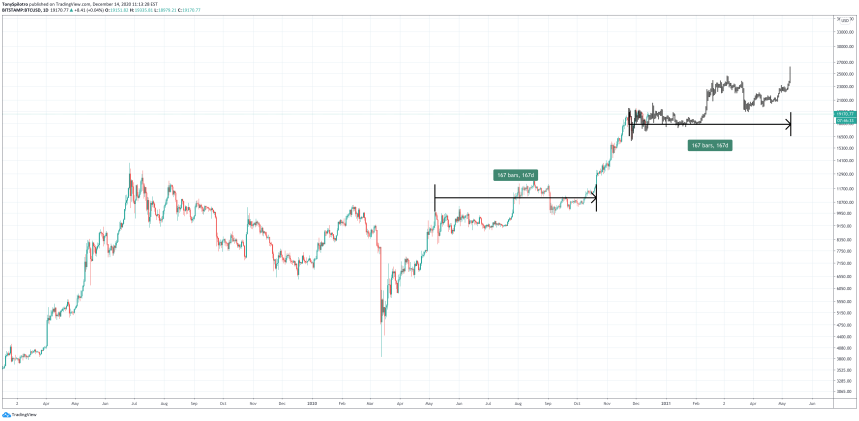 A fractal points to a phase of painful sideways and shakeout in both directions | Source: BTCUSD on TradingView.com
The current price action looks surprisingly similar to the cryptocurrency's last major sideways phase. And if the same scenario is playing out again, expect boring price action for another few months.
Related Reading | "Cyclical Nature Of Bitcoin" Could Provide Clues On Continuation Or Correction
Interestingly, two major sideways phases preceded the epic 2017 bull market that took Bitcoin to $20,000 the first time. Now it is back at these prices, but the pain has yet to end.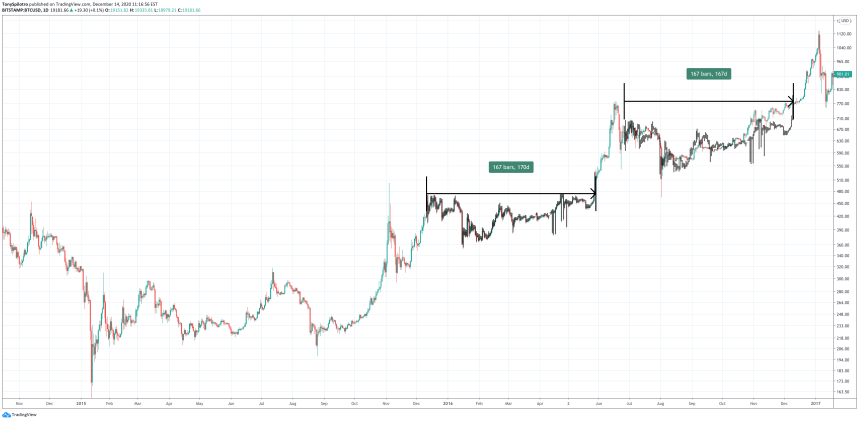 A similar fractal and sideways phase kept Bitcoin rangebound in late 2016 | Source: BTCUSD on TradingView.com
Bitcoin Cycles: After Max Pain Comes The Reward That's Worth Holding For
The end of pain might not come for another 167 days, according to both the fractal currently, and a similar, two-sideways-phase fractal from the last bull market beginnings.
Related Reading | Analyst: Bitcoin Trajectory Ahead of Schedule, Peak Projected At $325K
The chart above shows the two stretches of price action, taking roughly the same length in time as the current sideways string. When the stalemate concludes, however, magic happens.
Once the painful sideways Bitcoin trend is complete, the final parabolic impulse carries the cryptocurrency to new highs. Superimposing the last cycle over the same point in time over current price action lines up well with similar expectations, and another parabolic curve that carries the cryptocurrency to astronomical highs, starting once this sideways ends.
After the final phase of max pain, parabola begins and the cycle repeats | Source: BTCUSD on TradingView.com
The reason why such a sideways scenario so painful, is that in speculative assets stagnancy leads to uncertainty and doubt, which can cause participants to stay sidelined until a decision is made. And as we witnessed over the last few months, once the train leaves the station, it leaves quickly to the next stop.
Is that train ready for another stop now, is more refueling necessary that could result in a max pain situation as outlined above?
Featured image from Deposit Photos, Charts from TradingView.com