Bitcoin has become extremely popular in 2020, on the back of the store of value, safe haven asset, and digital gold narratives. The digital gold story has taken center stage recently, as the precious metal's bullish momentum fizzled out and the cryptocurrency market took off.
But one self-proclaimed contrarian investor with a focus on bullion, says that digital gold makes little sense, and compared it – ridiculously – to "digital steak." Here's why Simon Mikhailovich's comparison itself doesn't make sense.
2020: The Year Of The Bitcoin "Digital Gold" Narrative
Bitcoin was designed by Satoshi Nakamoto to share several key attributes with gold and other precious metals, chiefly, their scarce supply. The cryptocurrency creator borrowed other commodity-related concepts, such as mining.
Unique from gold, however, certain attributes of a currency were also added, such as decimal places for unit of account, and the ability to send the asset digitally.
Related Reading | Why New Bitcoin Investors Shouldn't Be Deterred By The Scarce BTC Supply
The "digital gold" narrative that has emerged since Paul Tudor Jones said that Bitcoin could outpace the then trending shiny yellow metal, has taken the forefront and even managed to capture the imagination of high wealth investors. Many are reallocating gold into Bitcoin, for the sake of putting capital where it is expected to perform the best.
However, one self-proclaimed contrarian investor, claims that the narrative makes as much sense as a "digital steak." Is his comment a well-done retort, or is he wrong about the rare, digital-only asset?
Contrarian Warns Of Crypto Becoming Enemy Of Fiat Currency And Governments
According to The Bullion Reserve founder Simon Mikhailovich, the Bitcoin as digital gold narrative doesn't make sense. Or it "makes about as much sense as 'digital steak.'"
TBR is a private bullion asset manager, so clearly Mikhailovich could be biased about the cryptocurrency that is heavily eating into his business model and revenue.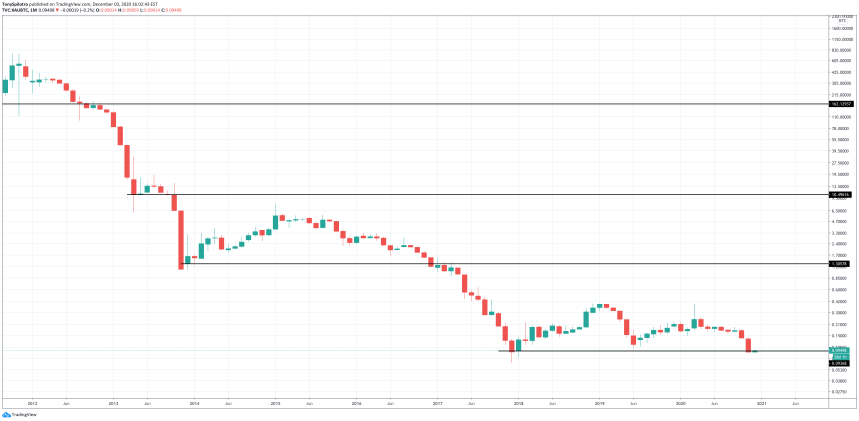 Gold is breaking down against Bitcoin, targeting another 90% fall against the cryptocurrency | Source: XAUBTC on TradingView.com
The comparison is definitely a strange one. As Bitcoin supporters swarmed the investor on Twitter, he began to add more insight to his thought process.
Approached with sarcasm, some users questioned if he was this skeptical over "digital mail" –  a nod to the fact there was once a time when pundits thought email was unnecessary. He said in that case, emails transfer information and not actual paper, referencing fiat money and ignoring the fact that paper money gets digitally transferred endlessly all day long via debit cards, PayPal, Venmo, and more.
He also explained, that "throughout history, private challenges to sovereign currencies have been deemed an existential threat to sovereign power and treated as such. "Everyone can draw their own conclusions," he added.
Related Reading | The Dollar Losing A Decade Long Trendline Could Send Bitcoin Skyrocketing
There is always a chance that governments could view it as a threat, but the asset was made to be decentralized and operate outside of the reach of state actors. And the argument is weak from someone who knows gold well enough to be aware that US citizens were once banned from holding the precious metal under Executive Order 6102, and could just as easily be at risk.
The only reason why Bitcoin would be targeted by the government when gold hasn't in decades would be due to the cryptocurrency being viewed as much more dangerous of a threat to fiat currencies that are used to control the world.
But any government banning BTC would be at risk of a catch 22 like situation. Being the odd man out could let other countries garner a larger share of the limited supply, leaving whatever nations late to catch on at a disadvantage if it becomes the global reserve currency.
The analogy about digital steak is incredibly poor, but email is the ideal example. The best technologies are the ones you don't need until they become commonplace, but once they are, they become everyday staples.
So perhaps the digital gold narrative is wrong, but solely due to the fact that nicknaming it after the precious metal, despite decades of the gold standard, would be selling the cryptocurrency a few coins short.
Featured image from Deposit Photos, Charts from TradingView.com